Imagine this – the year is 2023, robots exist, technology in our homes is so smart we can speak to them, our phones can recognise our facial features to unlock apps, and the global population using the internet is well into the Billions… crazy, right?!
In all seriousness though, we really are living in an exciting and unprecedented time. As we move from the Information Age into what feels like the Technology and Innovation Age, the best still feels like it's yet to come.
We use technology in every aspect of our lives now, from electric toothbrushes to dishwashers and of course mobile phones, computers, etc; so why should Business Operations and Marketing be any different? As 2023 unfolds, having a solid MarTech Stack for your business is essential.
// Why MarTech is so Important
Marketing Technology (MarTech) is technology specifically invented to drive efficiency in Marketing practises, to improve the overall quality of work, content; and of course, make the success of any Marketing activity greater. What's not to like about that?!
As a leading Digital Advertising Agency, Loud Mouth Media have tested and implemented various types of MarTech to drive efficiency in the Agency. So, we have compiled a list below of some of the top players we think should be included in your MarTech Stack for 2023.
// Our MarTech Stack Recommendations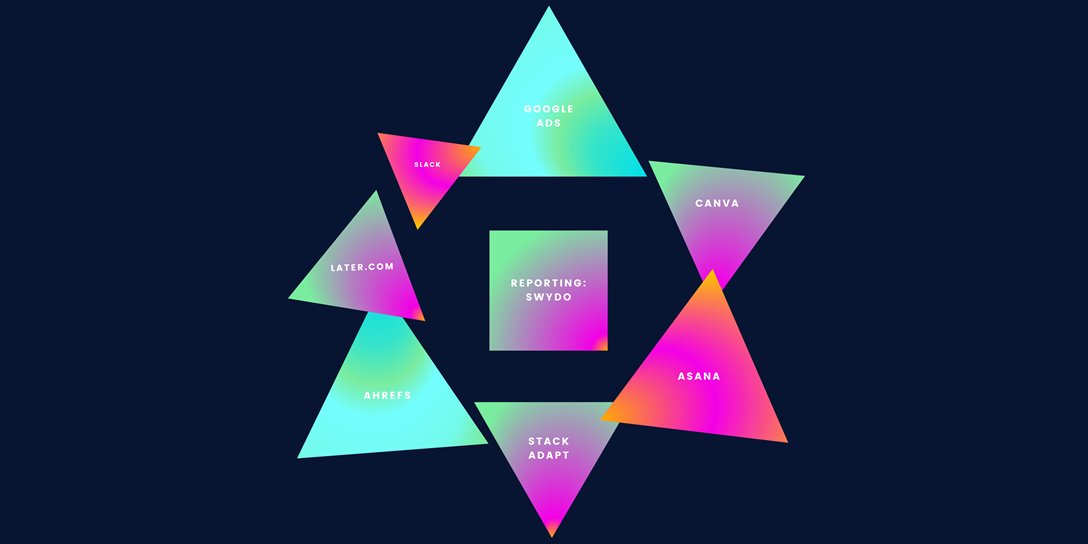 Digital Advertising Tech: Google Ads
Top of the list, and top of the triangle – an essential MarTech addition for any business wanting digital growth in 2023, is Google Ads. With Google hosting over 8.5 billion searches a day (yes, that says BILLION), there is no stronger platform to add to your stack. From budget optimisation and smart bidding to keyword intelligence and targeting capabilities that can go as granular as a 4-word key phrase – Google is, and will remain, the juggernaut.
With new tools and innovations being released each quarter, Google are continuously optimising Google Ads to benefit their customers. And lucky for you, while we're at it, we know a Google Premier Partner Agency who could help you here…
As our Head of Performance says of Google Ads: "It's proven to work. It reaches people when they are actively searching and looking for an answer / a product. Plus, Google is in the dictionary, are other Digital Advertising platforms…?" The silence is deafening.
Graphics and Design Tech: Canva
Next up is Canva, a graphics tool built to drive efficiency and consistency in asset creation. Whether it be video content, static images, gifs, presentations, newsletters, social media posts (the list goes on), Canva has set templates to mean you know the right dimensions and can feed off their wide variety of stock images, graphics, audio and video content.
Canva is a game changer if you have creative requirements in-house and want to save on a Graphic Designer or the pricey Adobe Suite (sorry Adobe). Better yet, you can build brand parameters in Canva and make sure that even if you have multiple users working on a project or across client-needs, consistency remains strong. And who doesn't like consistency?!
The Australian MarTech tool describes themselves as: 'A design tool that makes it possible to design anything and publish anywhere.' And we'd agree!
Project Management Tech: Asana
We all know the saying, time is money. Well, all of us Marketers know that too! So, when it comes to time management, collaboration and driving efficiency, the Project Management tool Asana can be a real winner.
With built in templates to build any project into a detailed plan, you can break down any project into the granular details. From allocated tasks across teams to templates that encourage cross-team collaboration, it can improve visibility for everyone. Need to map the progress of a client project? It can do this. Need to pitch to Senior Executives on utilisation? It can do this. Want to manage your own team's workload and allocate work across different individuals? It can do this.
When time is money, Project Management tools that improve visibility and utilisation are essential in a MarTech Stack. As Asana say: 'Break down silos, automate processes, and keep cross-team projects on track. Customise workflows to fit your company's needs. Tackle the right tasks at the right time.' What they said…
Digital Advertising Tech: StackAdapt
Programmatic is all the rage in 2023, but it's been building steam for some time now. The truth is, however, the majority of clients (and Advertisers) still don't quite understand how it works and where the true value is. Enter StackAdapt, a Digital Advertising Technology built specifically for Programmatic Advertising.
Ultimately, Programmatic is buying digital advertising space automatically, using data to decide which ads to buy and how much to pay for them. It drives value and conversions – what's not to like? Well, StackAdapt can curate all available media inventory in one central location to ensure your ad ecosystem is as safe and transparent as possible for your brand. And most of all, in doing so, it drives conversions and return on investment.
In the words of StackAdapt: 'With StackAdapt, you have all the features you need to plan, execute, and manage data-driven digital advertising across all devices, inventory, and publisher partners. You're able to create multi-channel campaigns across channels like programmatic audio, connected TV, and in-game, while leveraging a variety of targeting features including Page Context AI, a cookieless targeting tactic.' We couldn't have said it better ourselves!
SEO / Search Engine Marketing Tech: Ahrefs
The world of SEO can be overwhelming and seem super technical – and while not everyone can have an expert in-house SEO team like we do (flex!), tools like Ahrefs are an essential addition to any MarTech Stack in 2023. Why? In their own words, 'Ahrefs simply rocks your SEO and reveals tons of marketing opportunities in a few clicks!'
Ahrefs is an analysis and research tool built to improve visibility on website performance. Whether you want to review search volumes for your keywords or see how your competitors are ranking compared to you or check how your keywords have improved over time; Ahrefs can ensure you get that valuable data, real-world proof, and fast.
Again, an efficiency enabler, SEM tools like this can consolidate the billions of search data that exists and allow you to refine it to the most important for your website or your clients'. Now we've used this saying a few times in this blog… but game changer!
Social Media Management Tech: Later.com
With Facebook alone having over 10 million active advertisers as of 2023, it's no surprise that more brands are building Social Advertising strategies. But, as anyone who uses these platforms knows, each individual platform has their own audience, their own content parameters, their own core messaging styles, and it's almost impossible to post the same content across all channels at one. Enter then, Social Media Management tools like Later.com: 'Plan, analyse, and publish content in advance — so you can save time.'
Again, Later.com is all about efficiency, utilisation, and ensuring Marketing teams don't lose that valuable time on posting content across platforms. With the ability to post across multiple platforms at once, and at different times (key for global businesses), it's an essential MarTech addition.
Another big plus of Later.com is it offers the 'Link in Bio' tool for Instagram. Instagram offers very limited ways to customise your profile, let alone include URLs to engage your audience and encourage them to follow you to other content – but the Link in Bio feature means you can customise URLs, pin important content and even include your latest video content in one handy link. Better yet, it also has its own analysis reporting too. What's not to like?
Communications Tech: Slack
Do you remember a world pre-Covid without Slack? We don't either… Slack has changed the landscape of modern communications for businesses with hybrid working models, remote workers, and/or offices based in different locations: 'In Slack, you've got all the flexibility to work when, where and how it's best for you.'
Not only does it encourage transparency and open communications across teams, it also allows you to create additional channels for clients, collaborators and private chats for HR or Operational processes. PLUS, it includes emojis, and let's be honest – emojis really can brighten your day!
At Loud Mouth, we have a set of core emojis to use on Slack that communicate activity to the wider business to help drive efficiency. When we kicked off the 4-day working week this was essential to cut down wasted time or un-wanted distractions. Whether it be an emoji for on holiday, do not disturb, or open to collaboration; we rolled them out and they have seen positive improvements on business-wide communications and productivity.
Reporting Tech: Swydo
Now, what would Digital Advertising be without data analysis and reporting? Let's not welcome those thoughts… thankfully there are additions to your MarTech Stack like Swydo that ensure your utilisation around reporting is sorted with ease.
With the ability to amalgamate different data sources into one report, it drives efficiency, and means you can then spend your valuable time analysing the data, mapping trends and working with clients to feed those learnings back into your campaigns. It also allows you to customise brand templates to again, enhance brand consistency across teams, across departments, and across offices.
From Swydo themselves: 'Whether you have 10 or 1000+ clients, Swydo makes it easy to scale and automate your client reporting.'
There you have it, as we live in a world with Pepper the robot, it goes without saying that curating the right MarTech Stack for your business is essential to driving efficiency in your Marketing activity through 2023 and beyond. And no, this blog wasn't written by an AI tool like Chat GPT, we still believe in humans doing the good stuff ourselves!
Loud Mouth Media are an multi award-winning Digital Advertising Agency with offices across Belfast, Glasgow, London and Dublin. Specialising in PPC, Paid Social SEO, get in touch today and let's talk digital growth!