If you're new to this blog feed – welcome – but for those who frequent this thread, you'll be noticing how often we've referenced TikTok in recent months. And there is good reason!
In 2021, it was all over the news that TikTok and Shopify had teamed up to enhance the shopping experience directly in App. Essentially all merchants using Shopify would be able to add a shopping tab directly to their TikTok profile, enabling them to sync their product catalogues and essentially creating mini-stores. It shortened the customer journey, and meant influencers could sell directly to their customers, and fast.
A year on, TikTok has launched a fully-fledged shopping platform, and we are REALLY happy about it at Loud Mouth! The new commerce ad suite is called 'Shopping Ads' and ultimately advertising for ecommerce brands on TikTok just got a huge makeover.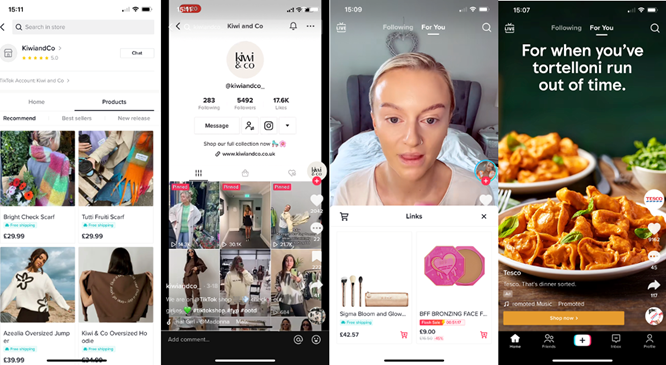 // WHAT YOU NEED TO KNOW
Okay, here's the scoop – TikTok is testing 3 formats of Shopping Ads, and those are as follows:
Video Shopping Ads
Catalogue Listing Ads
LIVE Shopping Ads
Now, TikTok has made us all aware of the strength of short-form video content. We've all seen the dance moves in the kitchen, the pasta bakes and campaigns for the likes of Boohoo. So, I'll give you a brief description of these new formats of Ads that are set to change TikTok Advertising for the better.
VIDEO SHOPPING ADS
This format is key for allowing advertising to highlight one of more products in their in-feed video ads. This not only amplifies product discovery, but also purchase intent. These video ads will combine the strengths of current Dynamic Showcase Ads and Collection Ads; and ALERT, they will be phased out by 2023 for Video Shopping Ads… you've been warned.
"Video Shopping Ads essentially put brands' shoppable videos in front of users who are more likely to buy them. The ads will also automatically create a landing page to better determine a user's intent to purchase. Video Shopping Ads are currently available to select advertisers for beta testing." (TechCrunch)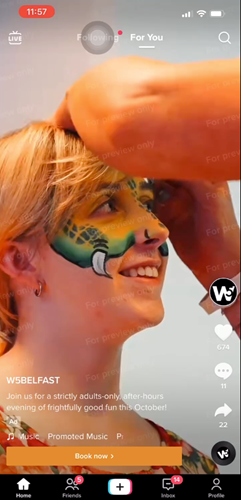 CATALOGUE LISTING ADS
This new format is a game changer for advertisers who want to scale their product catalogues beyond the 'For You' page. That's right, that means expanding audiences, and extending reach to more customers and more potential buyers. You can now promote your products across shoppable surfaces like 'Recommended Products' or 'Related Products' – this means relevant interests and audiences with higher purchase intent can discover and BUY.
Now, another user warning on this – These are currently only being tested in the US… so if you're in the US, get on board. For those of us in the UK, let's give it time.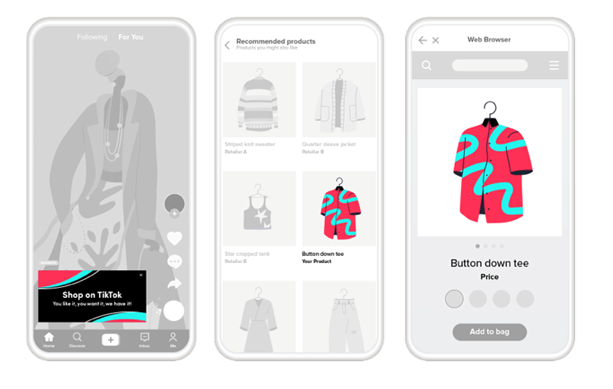 LIVE SHOPPING ADS
The last of the lot, but by no means the least – LIVE Shopping Ads. These allow advertisers to direct users from the 'For You' page to their LIVE Shopping event. This makes the shopping experience more interactive, and audiences can learn about products and join in on the conversations on brands.
"Shopping Ads is a simpler, smarter and more advanced ad solution that helps brands meet shoppers wherever they are in the purchase journey, sparking demand and boosting sales." (TikTok)
LIVE Shopping Ads boost traffic to a brand's event and are designed to get their products in front of shoppers who are more likely to buy them. The good news, LIVE Shopping Ads are being tested where TikTok Shop is available, which includes the UK, Indonesia, Malaysia, the Philippines, Singapore, Thailand and Vietnam.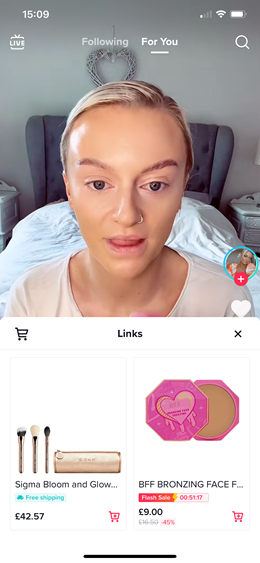 So, there you have it, those are the main breakdowns – as the platform continues optimising advertising features it will only get better. TikTok also announced that 48% of their users are interested in making a purchase on or from TikTok in the next 3-months… let's get to it.
For more advice and expertise on TikTok advertising, or any other Social Advertising for your business, make sure to reach out and speak to Marc and his team of award-winning Paid Social legends. With Black Friday almost here, now is the time to get a strategy together for maximising conversions in the coming months! Loud Mouth Media are a leading Social Advertising Agency in Belfast.