Keyword Ranking – outside of our SEO community, it can feel like a sea of technical jargon. I get it, but it's an essential component of any website succeeding. Ultimately a number 1 Google search result for a given query has an average CTR of 31.7% (and for context, that's good!) and will typically get 10x more clicks than the website at number 10… so you can imagine the websites on page 2-3.
Let's start with the basics - What is a Keyword Ranking?
It refers to your page's specific spot on the search results pages for a particular search query. When people type in search terms to Google that relate to your page's subject matter, whichever spot your URL is shown in is your keyword ranking.
For example, I want to understand what SEO is – I type my question into Google and the results that appear when I hit 'enter' are what Google understands as the most likely to suit my needs. This is largely due to their use of those keywords I've typed in across their own website.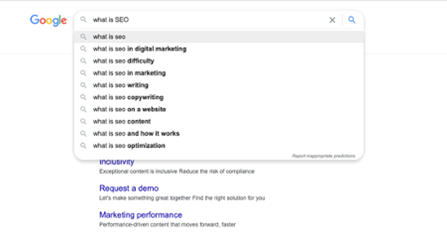 Other factors can also affect Google Keyword Ranking. They include:
Search Intent: Search Intent (also known as "User Intent") is the main goal a user has when typing a query into a search engine. Common types of Search Intent include informational, commercial, navigational, and transactional. (SEJ)
Search Volume: Keyword search volume is an SEO metric that tells you how many times per month, on average, a particular keyword is searched for in a specific location. More often than not, search volume refers to the number of searches in Google, but this metric can also refer to other search engines too. (Ahrefs)
Quality of the Content: Quality content is how you engage, inform, support, and delight your audiences. Creating authentic, valuable content is also critical for search engine visibility.
Number of Backlinks: It's usually better to get 100 links from 100 different websites than 1,000 links from the same website. The number of sites linking to your own (not the total number of backlinks) is the sweet spot.
Domain Authority/Rating: A prediction of how likely a website is to rank in search engine result pages (SERPs). Domain Authority scores range from one to 100, with higher scores corresponding to greater likelihood of ranking.
Page Loading Speed: This one is exactly what it says on the tin. Give users the content they are requesting quickly and seamlessly across devices. Compress images, be mobile-friendly, and speed up your server if possible… If only there was a handy blog explaining it in detail. Oh wait! There is right here.
Does nailing Keyword Ranking REALLY matter?
Google alone dominates the search engine market, so it is pivotal for any business needing website traffic to consider what Google wants. The more you understand the algorithms and speak to their ranking factors, the more likely you are to get quality traffic to your website. With more than 85% of global traffic and 270 million unique visitors in the US alone, it would be a mistake to ignore this stuff.
Plus, 75% of internet users never go beyond the first page of results… so, I've broken down my Top 6 areas to consider for Keyword Ranking:
Understand your Baseline
As with any business decision, you wouldn't make it without market research or data behind you, right? Informed choices are key in this competitive world, and Keyword Ranking is no different! Use tools like Google Search Console to analyse the keywords that are driving traffic to your website. Without knowing your baseline, you won't be able to know where to go or how to assess success.

Analysing this data will give you a good idea of the following:
Your most valuable keywords and landing pages
The most immediate opportunities for improvement
Keywords and landing pages that are underperforming
This is also where SEO audits come in VERY handy. A technical expert can assess your website, look at the search volume for keywords that relate to your brand, and ensure those are optimised across your website to drive conversions.
Target the RIGHT keywords
When you've done your research, you have data to help you understand what your target audience are searching for – and what keywords they're using – now it's time to ensure they're the RIGHT keywords.
What I mean by that is this, there are over 8 billion Google Searches a day, by no means are all of those going to be relevant to your business, let alone your website. So, let the 35 million people search up elephant videos, and ensure you only rank for keywords that are relevant to your business. For example, if you're an eCommerce business selling dog toys, you don't want to put time and effort into ranking for words like 'quality cat food' or 'best pet shops in my area'. Make sure the keywords you invest time and content in are conversion-rich keywords.
Our advice is to focus on improving keywords that are ranking in positions 5 through 15, these words are usually seeing you appear at the bottom of page 1 or 2 on Google and can therefore see your traffic improve if you get them higher up on those SERPs.
Understand your Website Performance
This is a key element for any business, make sure your website performance is where it needs to be. Make sure the structure of the site and landing pages are clear, make sure the path to conversion (whether that be Lead Generation or Ecommerce sales) is simple and quick, and always consider the user experience (UX). A CRO audit can be great to understand these finer details, but ultimately if you work hard to optimise keywords and you gain valuable traffic – don't lose them based on website performance.
Our advice is that both bots and humans want us to:
Be clear and concise
Provide accurate information
Get to the point
Avoid jargon – FYI, acronyms might work in internal comms but avoid them IRL & on your website
Regularly Review, Analyse, and Optimise
They say SEO is a marathon and not a sprint, I like to say we're here for a long time, not a good time. Optimising content, keywords and improving your rankings can take time – algorithms change all the time, more competition appears every day, and Google has trust issues. It won't boost your rankings overnight, so take the time to do it right, build into your digital strategy regular reviews, analyse the data coming in and remain agile.
For example, monthly checks of Google Search Console can help you see new search terms sending traffic to your website, and you might notice more 'okay Google' additions. This would help you understand your traffic is using voice search, and you can optimise keywords and content accordingly.
Be the Answer People Need
Optimising keywords and content across your website for featured snippet results and rich snippets should be a key part of your SEO strategy / digital strategy.

In this day and age people want immediate satisfaction and immediate answers. These snippets can sometimes give a searcher their answer without even clicking on your website, but it will build domain authority over time and showcase you as the expert they need.
Being #1 Doesn't Last Forever
This last point is something I have to really stress. It is almost impossible to rank 1st place across Google. Stay with me here… Earlier I talked about search intent. Google wants to match user intent and it treats EVERY SINGLE SEARCH differently. When any rank tracker is telling you "HEY YOU'RE 1ST FOR THIS KEYWORD", it is looking solely at that keyword in a search against a specific IP address at that one time.
Now while Google is operating like that, that isn't how people search. You might start out searching for one thing, reading about it, finding a new keyword (which Google is picking up as related but treats differently). So, my advice to swerve this stuff?
When you rank #1 for a keyword, don't treat it as being set in stone. Think of it as a barometer for your wider keyword pool (RE: Points 1 & 2) and how improvements in one area can lift others. The more consistent over time with the work – the more success you'll have.
See you in the SERPs!
There you have it, some key advice on dominating in the SERPs. For more advice or to discuss wider SEO strategies, make sure to get in touch with our award-winning team, here. Loud Mouth Media are a leading SEO Agency in Belfast.