If you've been online in the last 5 years (and we sincerely hope you have!) the idea of the Metaverse will be a familiar topic. Coming into popular culture via the social powerhouse that is Facebook, the idea of a virtual reality worth commercialising for consumers (and audiences of any kind) has taken the world by storm. But it has also left a lot of people wondering, even 5 years later, what exactly it is and what exactly it means for businesses.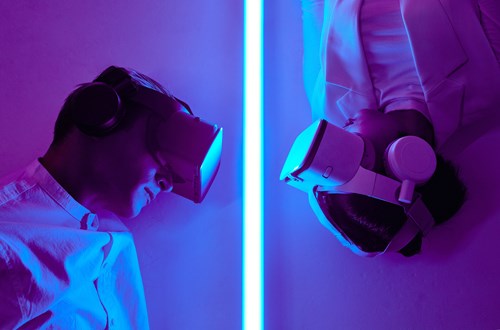 Virtual Reality is not a new concept – far from it. For those in the gaming and technology sectors, finding ways to innovate virtual experiences has been an area of research and development for some time now. Whether it be virtual showrooms for international real estate firms selling property to foreign buyers, or for interior designers mocking-up client rooms for display. VR adds huge value to some sectors, as does Augmented Reality. But does that make the Metaverse more valuable?
To answer that question, one must first understand the Metaverse – and that's where it gets interesting. With even The Drum exploring the lack of understanding around the Metaverse, it really is a bit confusing. In its most simple form, the metaverse is a 'hypothetical iteration of the Internet as a single, universal and immersive virtual world that is facilitated by the use of virtual reality and augmented reality headsets.' In other words, 'a metaverse is a network of 3D virtual worlds focused on social connection.'
The most common form of the Metaverse making lucrative movements is with the onset of NFTs – Non-Fungible Tokens. Making global news, these records of digital ownership stored in the blockchain have generated a metaverse economy and seen brands like Nike generate a whopping $185Million from NFT fashion. 'Since each NFT is secured by a cryptographic key that cannot be deleted, copied or destroyed, it enables the robust, decentralised verification – of one's virtual identity and digital possessions – necessary for metaverse society to succeed and interact with other metaverse societies.' (FT)
With the likes of NFTs, the Metaverse has more context for understanding – ultimately, it's a way to explore virtual environments and commercialise the products required to make that virtual reality personalised and an expression of one's true self.
We've compiled a list of ways the Metaverse is driving value and commercialisation outside of just retail / ecommerce; and can see in time it will only get better and easier to comprehend with real-world use cases.
// Healthcare & Medical Training
In late April 2022, the Johnson & Johnson Institute and Johnson & Johnson MedTech opened its first Innovation Room for Mexican doctors. This is a training space for doctors, surgeons and other health professionals that offers the latest technology in medical devices and training simulators for surgical procedures.
Johnson & Johnson's Innovation Room will allow doctors and surgeons to rehearse in a virtual environment what they will later do in a real operating room. It will also increase the options for continuous education with state-of-the-art technology for specialties such as: colon cancer, orthopaedics, electrophysiology and plastic surgery.
Both the metaverse and virtual reality (VR) are going beyond lifestyle applications and revolutionizing healthcare practices. In the case of medical training, medical students currently learn on dead bodies, which do not behave the same way a live patient would. In VR, professionals can view minor details of any part of the body in a 360° computer-generated reconstruction and create training scenarios that replicate common surgical procedures. Coupled with the metaverse, which integrates VR, artificial intelligence, augmented reality and connectivity, this tool aims to create a more immersive, experiential and interactive training experience. 
// Travel & Tourism
With the likes of brands like Beeyonder on the scene, even travel is an industry being revolutionised by the Metaverse idea / augmented reality. They offer live and interactive virtual tours all around the world, making global travel accessible for every budget. Whether it be festivals in Berlin, safaris in Africa or food markets in India, Beeyonder is fusing the hunger for world travel and Metaverse ideals to create virtual experiences for all.
With the likes of Covid-19, this way of exploring global travel in the privacy, and safety, of your own home has flown into the travel market. And we're excited to see how it takes off… (excuse the pun!)
// Events
AGU – The American Geophysical Universe Conference, is one of the most popular conferences in the world. Welcoming the likes of Nasa every December, it is a key event on the global science conference calendar. So, when the likes of covid hit, they needed to find a way to welcome visitors, discuss global science, encourage geophysical conversations, and still drive the science economy in the US. Welcome then, the Metaverse!
In 2020, regardless of the global pandemic, they launched their biggest conference of the year in a virtual reality format. With a customised Metaverse platform allowing a registered user literally 'walk' through the foyer of the conference; it allowed visitors to connect with other visitors to the conference (virtual networking), choose different speakers to watch, and even 'walk' through a virtual marketplace which would be stalls in the conference itself. Ultimately, if its good enough for AGU – the events sector has huge room for Metaverse-shaped success. Watch this space! 
// Real Estate
According to the Financial Times, the implications of this real estate revolution are already being felt in emphatic fashion. 'In June, digital property investment fund Republic Realm bought a parcel of land in Decentraland for more than US$900,000. Republic Realm, owned by investment fund Republic, is turning the plot into a virtual mall called Metajuku, modelled after the Harajuku district in Tokyo.
Such activities suggest it won't be long before real estate investment trusts (REITs) begin sniffing out opportunities in the metaverse. Property values move in line with economic activity, which is also booming in Decentraland. This is precisely what its creators envisioned when launching their virtual world in 2017.
"Decentraland's value proposition to application developers is that they can fully capitalise on the economic interactions between their applications and users," the metaverse's manifesto says. "To allow those economic interactions, the platform must allow three things to be traded: currency, goods, and services." '
Loud Mouth Media are an award-winning Digital Performance Marketing Agency. If its digital growth you want, our team of experts have the knowledge required to drive results across PPC, Paid Social and SEO. Get in touch for more information, and let's talk!