6 SEO Tips for Black Friday
With Black Friday approaching on 25th November (yes, it really is that close) and Cyber Monday shortly after, it's time you start thinking about your SEO strategy - yes, you do need to have some SEO foresight for what is now the busiest online shopping day of the year!
Last year, website traffic increased by 162% on Black Friday, which means competition is steep. You're up against time and competitors clamouring for attention. So, how can you dominate in the rankings and smash those sales?
Gary-Eoghan, our Head of SEO, could talk all day about what you should be doing with your site in the lead up to Black Friday… Thankfully, he's narrowed that down to 6 handy tips to implement now if you know your site is going to be involved in Black Friday.
Tip 1. Dedicated pages (that never die!)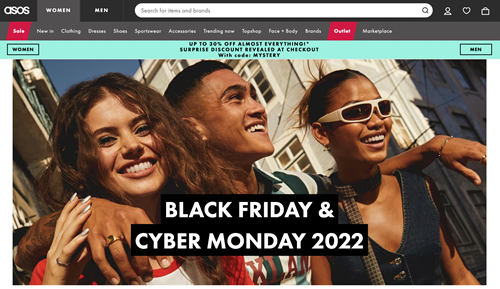 Consider which pages you want to drive traffic to. Remember your audience only has this one day and doesn't want to waste any time navigating to find what you have on offer. We recommend having a specific page for Black Friday and Cyber Monday (or one for both!) which shows all the deals customers can find in one place. 
And if you're making a habit of creating a new page every Black Friday, break the habit now. There's nothing wrong with having a page that sits year round (even if you have to orphan it for most of the year - we will explain that next).
Tip 2. Make your page live now
Don't have a Black Friday landing page on your site while reading this? PIN THIS TAB RIGHT NOW AND COME BACK WHEN YOU DO!
Prepare your dedicated page but make it live now in an orphan state. That simply means users can't navigate to it from your website yet unless they know the URL - and yes, that means having the page indexed. Just look what happens when you google "boots black friday" in the middle of September: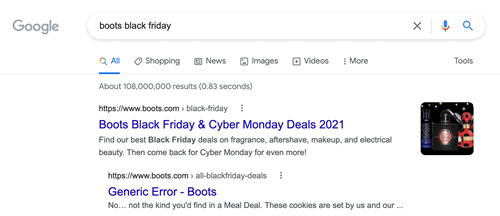 Tip 3. Manually index your page in Google Search Console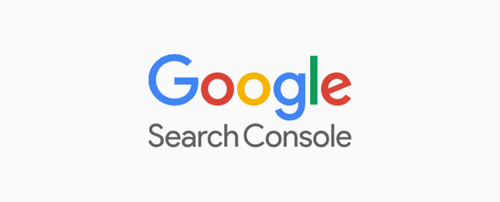 This is important because you need to let Google know you have made a new page and want it indexed. People often forget that you can't force Google to crawl your site whenever you want it to. 
You can highlight in Search Console that you want a specific page added to the front of your index queue. You'll thank yourself (and us!) for this later.
Tip 4. If you have a dedicated landing page already, make sure your meta is up to date with the correct year


The last thing you want is someone to Google your brand or product and see 2021 in search results for your site/page. People will think there's something wrong with your website and not want to click through. Just take a look at this example from Cosmo, who are ranking for 'H&M Black Friday'. They could easily update it now and reduce the risk of losing valuable sale day traffic.
This is a trick news and magazine sites know all too well. Just look at these sites already optimised for 'Currys Black Friday':

Tip 5. Make sure your foundational SEO is ready to go
You want to ensure that ALL the basics are in place for Black Friday, including having that landing page in XML sitemap. Other key areas to consider now are: Are your canonicals sound, is there Structured Data for offers and are discounts being used where possible.
Tip 6. News and Buying Guides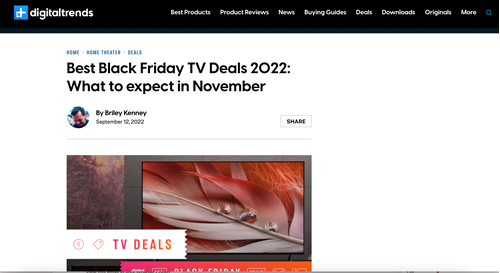 On the day of Black Friday and Cyber Monday, Google tend to show news and buying guides higher up on the SERP as it understands that on this day customers are focused on comparing prices. Try and develop blogs that act as buying guides, as it can help add relevancy, and give your social team an endless stream of content for organic posts in the lead up to the big day.
That's all for now folks, if you want your online sales to really thrive on Black Friday - why not give our expert team a shout? We recommend an integrated campaign strategy across our specialisms SEO, PPC and Paid Social for the best results. 
This isn't our first rodeo, check out some of the Black Friday successes we achieved last year below!
109% increase in revenue for our sports retail client

90% increase in transactions for our equestrian retailer client

91x ROAS for our jewellery retailer client
Check out some of our Black Friday Case studies here!
Loud Mouth Media are a leading SEO Agency in Belfast and Glasgow - speak to our team, here.