What is a Comparative Shopping Service and do you need one?
With 88% of all Google Ad clicks coming through shopping campaigns, it's confirmed - shopping ads are major. Consumers are always looking for quicker and easier ways to shop online - gone are the days of 'shop til you drop'. Think, 'shop fast, shop easy'... not quite the same ring to it though!
// What is a CSS?
Imagine you want to buy a coffee machine. You do a quick Google search, you see preview ads with an up to date price, supplier info, rating and image. Boom. Everything you need to know, right there.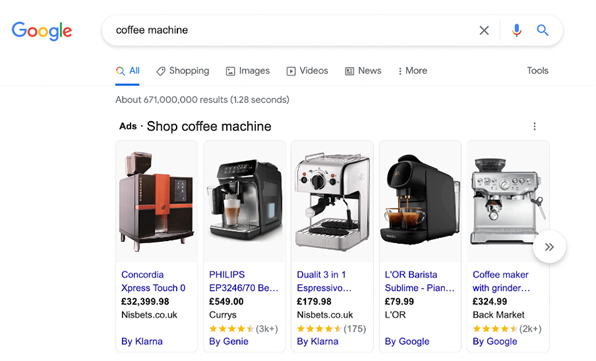 But, have you ever looked at the bottom of the product previews / ads where it says 'By Klarna' or 'By Genie' or even 'By Google'? Confusing, you just searched on Google so who are these other companies?
Well back in 2017, Google got a massive fine of over €2 billion for giving unfair advantage to their ads over competitors. A sting even for their revenue. As a result, they had to stop monopolising shopping ads, and were forced to open up their auctions to other suppliers and called it a Comparison Shopping Services (CSS). In other words, even when advertising via Google they have to add on additional websites to showcase your products. More reach, more benefits, and hopefully more sales… we'll take it!
Google describes a CSS as: "a website that collects product offers from online retailers then sends users to the retailers' websites to make a purchase". Which basically means when adding a CSS to shopping campaigns, your ads can appear in the shopping campaign results like the below's most common example - Product Listing Ads. These appear above or to the side of the organic search results too.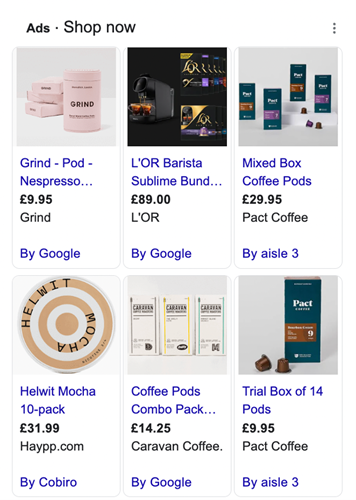 // So, why would you want to add a CSS to your Google Shopping campaigns?
Our Loud Mouth experts have been at this a while so they know the deal. There are several key benefits for Ecommerce clients and we have pulled them together especially for you:
1. It's Cheaper
You might not even want to bother reading the rest of the key benefits after this one. But the great news is CPC's are roughly 20% less for shopping ads through CSS merchants than directly through Google.
Your ads will have the same opportunities as Google Shopping Ads and the maximum bids that you set will be the same as if you didn't have the price reduction. Which means your max bid will go even further and will increase your position in the results and/or increase your overall impressions without increasing click prices.
2.

Twice as Nice

Ecommerce brands can appear twice for different products in the results - yes, you read that right. Check out the example below for coffee mugs and notice how Royal Copengahen have two ads out of the first five for the same coffee mug, just in different colours. Google tries not to show the same products, but uploading similar products is a great opportunity for brand presence, and increases the opportunity for clicks.

3. Reinvest and Grow
With the reduced costs, you might have some spare budget. Why not use that to reinvest into more ad presence or higher traffic search terms? If optimised correctly this could mean more sales, more exposure and better ecommerce revenue. Something our experts know all about!
// What next?
With so many CSS partners to choose from, why not get in touch with our PPC experts to help advise you and manage your digital strategy. After all, with so many ecommerce clients out there and such a competitive digital landscape,  sometimes it helps to get solid advice on these things. 
So go on, get in touch and find your products at the top of Google search results for 20% less.
See you in the SERPs!
Loud Mouth Media are a leading PPC Agency in Belfast - see our other specialisms, here.