Meta continues its hunger for market domination with their current sights now on leading the conversation channel space. It has been confirmed the social media giant has created their own text-based app to rival the current number one, Twitter. 
In true Meta style, keeping it within the app family is a key part of their future plans so it's no surprise the upcoming app is due to have a rather familiar-looking user interface for those who currently use Instagram.
What sets the new Meta app apart from Twitter?
The new app, dubbed 'Barcelona' or 'P92', aims to simplify the current Twitter user interface, and essentially act as a direct message feed allowing users to chat with followers using their existing Instagram profile. You'll be able to like, comment and share posts, as well as upload 500 word updates, with the option to add photos and videos (same as how Twitter currently operates).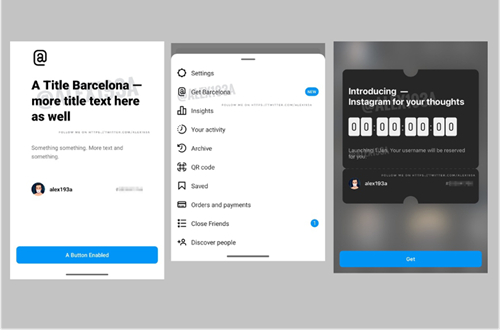 What does this mean for advertisers?
Crucially for advertisers, this will enable products and services to be marketed in a decentralised network (similar to Twitter) using Meta's highly capable machine learning for personalised audience targeting. But what other advantages does it offer?
Advantages of 'Barcelona' being a decentralised network
Advertising Opportunities
One key advantage of this is that businesses currently being pushed out of the advertising space because of their product category may be able to advertise again without extensive account suspensions and flagged posts.
Consumer Engagement and Brand Building
Like Twitter, this platform has also been designed to allow both consumers and large public figures or businesses to engage at a personal level, giving businesses another platform to present a personable persona. For example, the glasses company Warby Parker will often reply to consumers that are looking for advice on which glasses match their style the best. This is an excellent example of how apps like this can increase customer satisfaction through great customer service.
Companies like Wendy's have also presented their playful brand image on Twitter by throwing jabs at other fast-food companies, providing relationship and meal advice to consumers. 'Barcelona' will now allow for another online arena in which businesses can emulate the tactics employed by these brands to help improve brand image and awareness.
Community Development Opportunities
Another advantage of a decentralised app is that it enables users to form communities revolving around their favourite niches which provides another way in which businesses can target engaged audiences. Information collected by 'Sprout Social' has found that almost half of all consumers become part of a private community in order to directly engage with a brand. Ultimately, this provides an opportunity to gain free brand reach and engage with high-intent consumers that want to hear from your brand.
Considering the broader purpose of this app, Meta has created it not just to compete with Twitter but also to tap into the growing shift towards direct messages on Instagram. They feel that this new app will allow users to ensure they never miss feed posts from their friends.
What can we conclude?
With an increasing number of Twitter users abandoning the app and the fact that Instagram currently boasts four times as many daily active users, Meta is in the perfect position to release such a platform, opening up opportunities for early adopters to capitalise on. Expect the new app to be officially released in the coming weeks and check back to hear from our experts on the latest updates for advertising opportunities. Or get in touch to work with our experts.