Easter is just around the corner, and for businesses in the retail / ecommerce sector – that means more than just chocolate for breakfast, lunch and dinner. It means big opportunity for online revenue generation as Easter becomes one of the most profitable retail holidays of the year!
Experts are predicting Easter spend in 2023 will reach $24 billion. 'That's up from $20.8 billion in 2022, and would be well above the previous record of $21.7 billion recorded in 2021.'(thecurrent.media)
With so much of the Easter buzz surrounding candy and chocolate, it's important to note that only $3 billion of 2022's Easter expenditure was spent on Candy – leaving around $21 billion up for grabs if you position your brand correctly.
// So, what are people spending their money on around Easter?
For some context on growth, in 2017 the top gifts shoppers added to their gift list for Easter were:
Candy 88.7%
Food 87%
Gifts 60.9%
Clothing 49.6%
Greeting Cards 48.4%
Decorations 42.5%
Flowers 39.2%
Sweets and chocolate were the most commonly purchased gifts by consumers in the UK for the Easter holiday in 2022.
// Versus predictions for the 2023 Easter Retail period, according to thecurrent.media
The following USD is predicted to be spent across the following items:
Candy, $3.3 billion
Gifts, $3.8 billion
Food, $7.3 billion
Clothing, $4 billion
Flowers, $1.8 billion
Decorations, $1.7 billion
Greeting Cards, $1.1 billion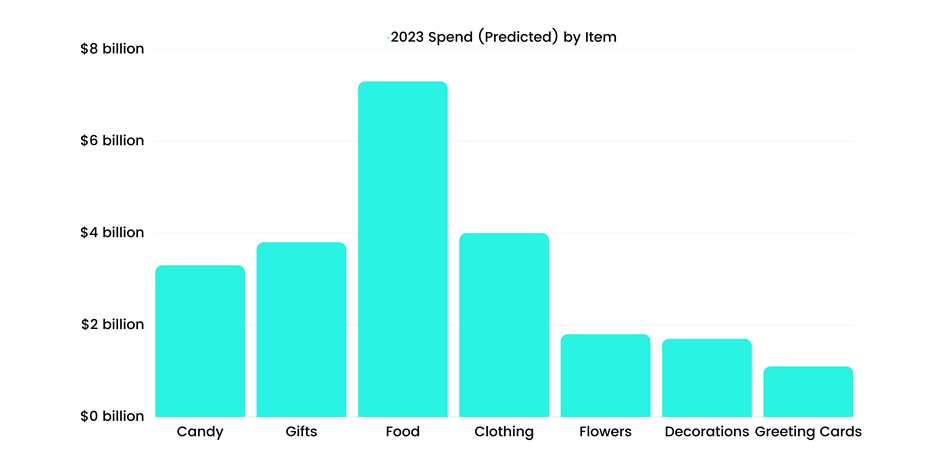 With the following channels predicted to be the busiest:
Discount stores, 54%
Department stores, 42%
Ecommerce stores, 33%
Local or small businesses, 22%
Speciality stores, 20%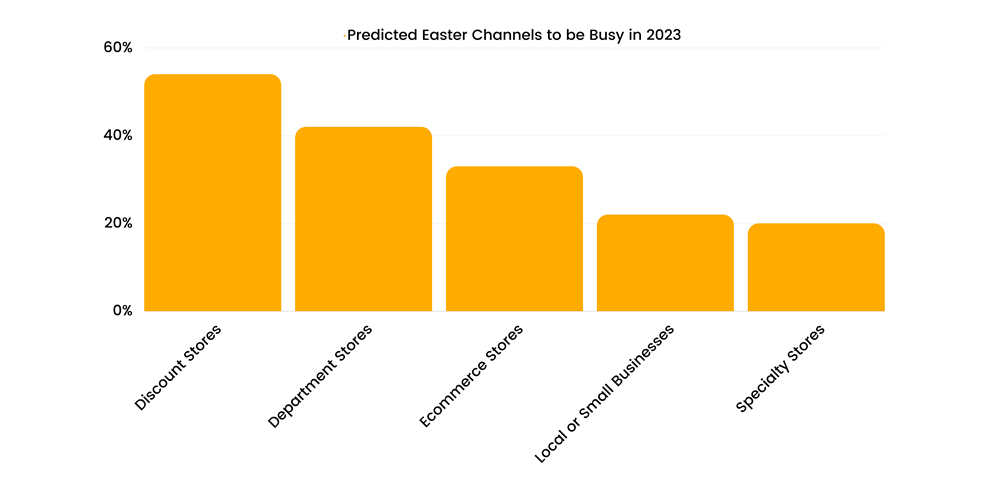 And the surveyed reasons for shopping, you ask?
Because of sales or promotions, 29%
store displays or decorations, 23%
or seasonal products, 20%
Focus on candy and clothing, 54%
// But who is buying the most during Easter?
According to Contact Pigeon, its millennials between 18 to 34 years of age.
'It should come as no surprise Millennials are buying the most during Easter as well. Perhaps it's because they have younger children, or because they are a generation raised on candy and treats themselves? Millennials spend around $2,000 annually on eCommerce — this level of spending is higher than any other demographic groups.'
// Easter Ecommerce Campaign Ideas
So, we know Easter is a great opportunity to maximise retail / ecommerce success, we put our ecommerce experts to the test and asked them to offer some Easter Ecommerce Campaign Tips just for you! And these are tastier than a Lindt chocolate bunny….
Social Media: Free Gift with Purchase Campaign
Now campaigns of course will vary depending on the business objective, and depending on what you want to achieve from your campaign – but if you're an ecommerce business wanting to increase the average order value over the Easter period; we would suggest offering free gifts if they spend a certain amount, or buy 2 get 1 free deals.
This way it can drive sales over the Easter period, encourage buyers to spend quickly, and also increase that all important average order value too.
Social Media: Run an Easter Competition
Again, this will depend on your business objectives, but a great way to drive engagement with your brand and increase followers can be to run a competition on your social channels. Encouraging data capture can increase followers, it can increase newsletter sign ups, increase leads, and then drive awareness of your brand too.
And it doesn't have to be chocolate or candy focused – whatever your brand, make it authentic to your business.
Email Marketing: Run a Cart Abandonment Campaign
Regardless of your business objectives, if you're an ecommerce brand it is always worth setting up a cart abandonment campaign to try and entice those buyers back over Easter.
Ultimately, your brand has worked hard to get a website visitor to fill their basket with products, so when they leave the website without making a purchase, you can have an automation set up that sends an email to that customer offering a discount code to entice them back. It could offer an Easter deal too, or perhaps that free gift mentioned above to increase the average order value too.
Email Marketing: Schedule Push Notifications
Ecommerce push notifications have 3 - 10 times higher click rates compared to standard email newsletters… and as we always say, data doesn't lie!
'Push notifications enable marketers to reach users with special updates, sales, and tailored reminders to lapsing customers. When used properly, this channel, which is not subjected to spam filters nor any other form of inbox restrictions, is "pushed" at the point where users are active on their devices.
You can feature a product category on sale that the user previously viewed, showcase new collections, suggest products, and announce giveaways to increase your engagements.' (Contact Pigeon)
Tip: A best practice is to keep the reminders to under 3 per week. We don't want to spam customers!
Are you an ecommerce brand looking to maximise sales over Easter?
Are you a retail brand looking to enhance brand awareness online?
Get in touch with our award-winning team, and let's curate a customised strategy that fits your business objectives.