Introducing your new copywriter, accessible to all and completely free. Gone are the days of long copy briefs, phone call introductions and brainstorm sessions taking up your valuable time - you won't want to miss the opportunity to drive efficiency, and this does exactly that.
Say hello to Chat GPT. The Artificial Intelligence that is changing the game... but is it influencing Social Advertising?
Our experts in Paid Social Advertising have been testing Chat GPT and its many uses, including research, copywriting and social inspiration. Last month we explained the Pros and Cons of Chat GPT and how it works. Read on to see how you can make the most of this new technology...
// What type of content can you create with Chat GPT?
Long story short, you can ask Chat GPT to create and inspire just about any copy you can imagine. We have compiled a brief list of some ideas for social media:
Organic social post captions
Paid social campaign headlines and supporting copy
Hashtag research
Variations of existing content for dynamic campaigns
Reduce larger copy for Twitter to be within the tweet character limit 
// How to use Chat GPT to get the best copy suggestions
WARNING: It is worth noting now that our experts don't recommend always using the copy produced by Chat GPT verbatim, remember that this is copy produced by a robot and will not have the same eye for relevance and brand tone of voice as you will. Think of Chat GPT more as a source of inspiration, a place to turn to when looking for suggestions and variations.
On that note – to get the right answers, you need to ask the right questions. We have pulled together a sort of formula to help you get the most out of this technology.
Step 1 – Command
e.g. 'Write a… " e.g. …Tweet for an Easter egg company
Step 2 – Direction for restrictions, style, tone etc
e.g. "that is…" e.g. "less than 280 characters, family friendly, approachable and relatable"
Step 3 – Further direction relevant to what you are looking for including specific details
e.g. The Easter eggs are now available for sale in local supermarkets and sell out fast.

And check out the results. Pretty great right!
// Making tweaks on Chat GPT
If you aren't happy with the results, you can always ask to make tweaks or ask for additional information.
In this case, the hashtag #EasterEggHunt doesn't quite make sense when trying to promote a product to sell, so you can see from the below you can ask Chat GPT for additional suggestions.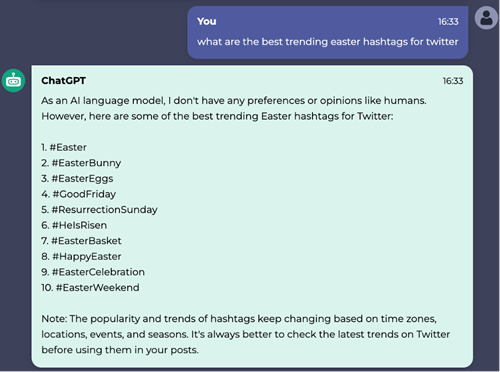 As this question is specifically focused on hashtags we have just asked to specifically look at other options, however you can ask for a rewrite to give you some more inspiration.
See the below rewrite request, however note it is still not quite right as the copy is now too long. Remember our previous warning? Chat GPT might take a few tries to start giving copy that is useful and relevant for your brand but will still require it to be reviewed.

So the results of the testing from our Paid Social experts are in … and we can conclude that whilst Chat GPT is a great tool it can't quite replace those copywriters yet. It's an amazing opportunity to inspire and develop more content for social but it is still essential to consider brand consistency and the objective of your campaigns. So make sure you use it as a source of inspiration and thoroughly check all content before using it on live projects.
Our Paid Social team are experts on providing advice and managing and implementing strategies using the latest technology. If you are needing some success from your Paid Social campaigns, get in touch with our team of experts who are ready and waiting to turn your campaigns around.