With over 1 billion monthly users, TikTok is no longer just a dancing app for kids. TikTok is now in the league with the big social media players and is showing no signs of slowing.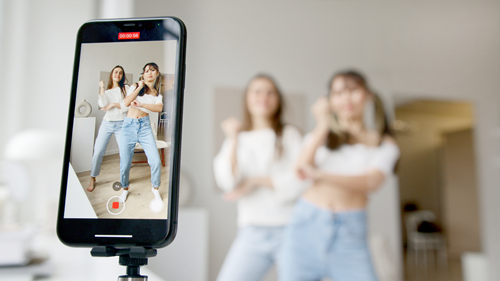 With each new social channel, there are a whole host of new things to consider including challenges and requirements.  TikTok, in particular, has a different aspect ratio and expectancy from its audience for user generated content. But that's not all. Our experts sat down with TikTok and got answers on the key question you've been asking yourself - how to develop content for ads successfully.
1. Use trending sounds and content ideas
Stay relevant with your audience and choose sounds from recent trends that they can relate to. Arnold Clark created content specifically for this trending sound and turned it around from concept to go-live within two days, hopping on the trend and receiving over 1m views showcasing a car in a relevant and funny way. Beware, trends are quick on TikTok, so content production time needs to be fast and regularly updated.
Check out Arnold Clark's trending TikTok
2. Ensure the objective of your content is clear
Do you have a sale on, are you trying to showcase a key product feature, what's your objective? Make sure you get this point across quickly because users expect short videos. You can use text overlay at the start of your video to really drive this point home.
This authentic TikTok from Shower Pro has over 11m views and it clearly shows a shower invention, taking the audience from the initial prototype to showcasing the key product features now.
Watch Shower Pro's product journey TikTok
3. Enlist TikTok creators
Similar to using influencers on Instagram or YouTube, having a familiar face can be advantageous in building brand trust and relationships. They also know their audience and can create content that balances your marketing objectives and user interest.
Amazon cleverly use thousands of content creators to drive sales through affiliate links. The content created is relevant to their existing follower base and ranges from TikToks on fashion to fly traps! Check out this one with over 3m views. Simple and effective with the links in the content creator's bio and a caption which reads 'you need this' 
McDonald's also use content creators for campaigns to show their real audience. This one focuses on the concept that when you're having a bite of McDonald's Sandwich, everyone asks for a bite. This content creator acts it out and makes a sketch relevant to his audience. Watch McDonald's TikTok from a content creator.
4. Keep it real
TikTok users want honest, user generated content. They don't want to see animated or big production ads. The story you tell needs to be authentic, remember your ads are in their space. As the saying famously goes in ad land, people don't dislike ads, they just dislike irrelevant ones. 
Give TikTok users a reason to watch your video to the end and really engage with them. The comment section in TikTok can be a vicious place, get your ad right, and you have created a haven for brand lovers visible to all seeing your brand.
Ryanair highlight here that their flights are cheap but you need to pay extra for luggage, most people already know this but they make light of it in an authentic way that shows the brand's humour and personality. Click here to watch for a laugh.
5. Don't forget about captions
This is your opportunity to give TikTok users a quick preview of the purpose of your ad and also to help them decide if they want to continue watching. If you are building suspense you can also think about teasing your audience with 'Wait till you see what happens at the end' type captions to encourage video view time.
This ad caption highlights that the video is going to be about unboxing a projector. It's to the point, if you like unboxing videos and are interested in new ways to watch video content, this is for you.
Hashtags are also important to quickly highlight video content but also drive engagement and views through the algorithm and discovery feed.
6. Include a strong CTA
When your audience is viewing your content you don't want them to keep scrolling, you want them to take action. Consider your objectives and encourage them to e.g. visit your website, make a purchase, download a song etc. 
Including your CTA in the caption is worthwhile as people often read this whilst viewing the video and it gives them context. When setting up an ad there are a few options of how you can drive that CTA, our experts in Paid Social can advise you on what is most suitable.
This organic example from Kylie Jenner highlights that her lipgloss is available on her website in new shades, at the end of the video she tells her audience to 'go and get your gloss drips' driving people to her website.
So now you have an idea of some of the key pillars for creating content for TikTok, get in touch with our Paid Social team who can take your content and help your brand reach millions. Our team are experienced in managing campaigns across a wide range of industries across integrated strategies delivering results that deliver. Loud Mouth Media are a leading Social Media Advertising Agency in Belfast.