Social Listening and Social Monitoring are relatively old terms with the Social Media domination happening largely over the past decade; but in a post-covid world where more and more people are online – nailing the likes of Social Listening can be a way to add real-world value to your digital strategies.
According to Hootsuite, 'nearly two-thirds of marketers agree that social listening has increased in value in the last year.' So, we'll break down the basics of Social Listening, the pros of prioritising time for such activities, and the key areas to concentrate on.
// WHY SOCIAL LISTENING?
Social media listening gives you access to real world brand feedback.
It allows you to build a solid understanding of exactly how customers and potential customers think about you by analysing what they say on social channels. You can also learn what they think about the competition. This is incredible market research readily available in real-time, as long as you know how to access it.
As they say, the true strength of your brand is what they say about you when you leave the room… so, this is social listening, but on a larger scale.
// WHAT IS SOCIAL LISTENING?
'Social listening is the practice of monitoring social media channels for mentions of your brand, competitor brands, and related keywords.' (Hootsuite)
Through social listening, you can track every mention of your brand on social media in real-time. This will give you valuable insights into how customers feel about your products or services, what their pain points are, and what they'd like to see from you in the future.
But social listening isn't just about tracking mentions of your brand. You can also use it to track competing brands, trending content, and sentiment analysis on topics related to your business.
This intelligence can be used to make smarter, data-driven decisions that will have a positive impact on your business. And with so much of the world's population online, it makes for one HUGE focus group!
Some key purposes of Social Listening include: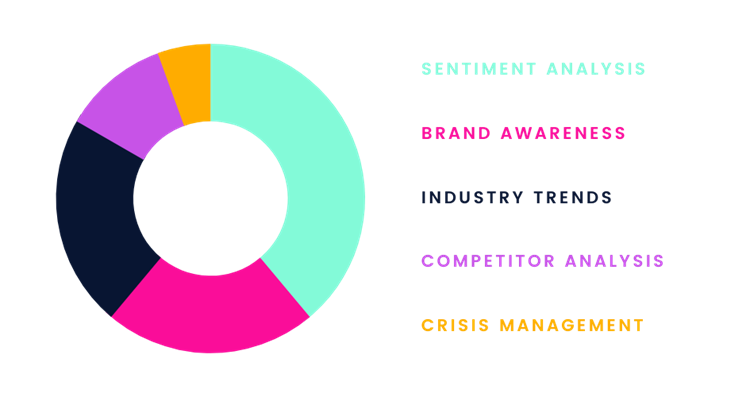 // THE BENEFITS OF SOCIAL LISTENING
Understand your audience
Gather business and product intelligence
Stay on top of crisis management
Strengthen customer relationships and acquisition
Find collaboration opportunities
Stay in tune with competitor and industry trends
Uncover market trends
Improve campaign targeting
// OUR ADVICE ON SOCIAL LISTENING
Listen for the right words / topics – No point in listening to topics that won't help drive your brand forward. So, stick to the right words, and some advice from Hootsuite on a list to start with is below:
// Your brand name and handles
// Your product name(s)
// Your competitors' brand names, product names, and handles
// Industry buzzwords
// Your slogan and those of your competitors
// Names of key people in your company and your competitors' companies
// Campaign names or keywords
// Your branded hashtags and those of your competitors
// Unbranded hashtags related to your industry
Listen in the right places – It's important to know the right channels where your audience are active and having active discussions. For example, if you're a design brand, platforms like Pinterest and Twitter offer differing benefits. While Pinterest will allow you to see potential customers pinning your work and engaging with visual media, Twitter might offer more detailed feedback via digital focus groups… so, which would be the most valuable for your brand and industry?
Narrow your search – Don't cast your net too wide. The internet is huge, and we know that, so it's important to prioritise the key topics, products, or trends you want to listen to and focus in on those. Otherwise, key areas could get lost in the noise!
Learn from the competition – If your brand operates in a competitive sector (and online, aren't they all?) it can really help to be in tune with what people are saying or thinking about your competitors. The good and the bad! It can be good to learn from your competition's mistakes, and also learn from their successes. This could be viral campaigns, trending hashtags, community management tactics, PR sources, etc.
Share what you learn – Social Listening can feel like a Marketing or Customer Service area, but the learnings can add value across any business and should be shared. It could help develop product developments based on buyer feedback, it could help operations cut down delivery times to satisfy customers, and more. Take the time to get valuable real-world feedback and make sure you share what you learn so your business can benefit.
Stay tuned for changes – With your brand ear to the ground, understanding what people are saying about your brand and what is being discussed surrounding your industry, you can then be aware of shifts that you need to be conscious of. After all, if the overall perception of your brand changes online its key to know why and how you can stay ahead of it. Social Listening will allow you to be aware and proactive.
Are you wanting to understand more about the power of digital, on social media or other platforms? Make sure to get in touch with our award-winning team and we can ensure you get the expertise and support you need.
As recent winners of 'Small Paid Media Agency of the Year' at the UK Paid Media Awards (2022 and 2023), we're the team you need!