Do you ever wonder how to align your customer journey with your strategy?
Do you wonder how best to get in front of your audience throughout their journey?
Feel overwhelmed by how best to attract their interest in general?
You're not alone, and this is why the Digital Advertising space is SO competitive right now.
We might be in a cost-of-living crisis, but businesses the world over are maximising investment in digital channels to target their most conversion-rich audiences and increase those valuable website visits. Why? Because with so much of the world's population online, you can now attract and convert audiences from anywhere in the world – and then gain data on their behaviour and almost clone those users to find more.
So, we know internet users are in the BILLIONS, we know there is interest out there, so how can you maximise conversions and not just by increasing budgets?
Of course, as a Social Media Lead Generation expert; I will always boast for Social channels – but stay with me on this one. Not only does the average person spend 144 mins on Social Media a day, but the likes of Meta see 70% of the world's internet users on either Facebook or Instagram – and numbers don't lie.
But aside from the reach they offer, the real power of Social is the ability to connect with your audiences when they are both actively searching, and also passively consuming media. This offers a unique benefit of being able to 'sell' or attract interest, without needing to be super sales heavy. It gives brands the ability to position themselves as educators, thought leaders, to build trust with audiences so they can nurture leads throughout their customer journey. And in 2023, when costs are high and Covid is only just behind us, '46% of consumers are willing to pay more for a brand they trust'. (Oberlo)
Our answer to driving awareness for consumers throughout their journey / throughout the funnel and enhancing brand trust? Promotion Content on Social Media.
// What is Promoted Content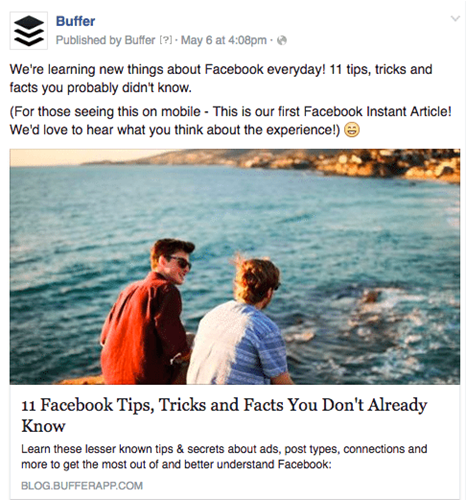 As seen in this Buffer example, it's all about showcasing your own work and positioning it as authentic, helpful content with paid promotion. This can be using existing blog content or case studies, but it needs to be relevant to your audience and offer some value to them.
Promoted Content has some core benefits:
Time Effective – You are using already created content on your website, and why not use it to its full potential?!
Website Traffic – It can drive interest to your website, and traffic = conversions.
Brand Trust – By not just selling to a customer off the bat, it can build trust from your audience because you're offering free…
Advice – Consumers want value, and they appreciate brands offering them free advice and tips / tricks or educating them on your area of expertise.
Wider Catchment – Because Promoted Content allows you to attract interest throughout the funnel / throughout the customer journey, it immediately gives you a wider catchment for customers. Customers at the top of the funnel tend to spend more time researching and consuming content too, so you may as well take advantage of that and get those eyes on your work!
Ultimately, we're seeing that Promoted Content alongside other paid and organic activity can maximise reach and brand awareness.
// Why Promoted Content works
'Consistent presentation of a brand has seen to increase revenue by 33%' (Oberlo). Remember when I said numbers don't lie? Promoted Content puts you in the driver's seat of the relationship you build with your customers; and with consistent thought leadership you can push consumers along their journey (and down your funnel) to increase digital revenue.
Even bloggers are prioritising Social Media to promote their content, with 94% stating Social Media was the best channel – ahead of Email Marketing, Paid Services and Influencer Outreach: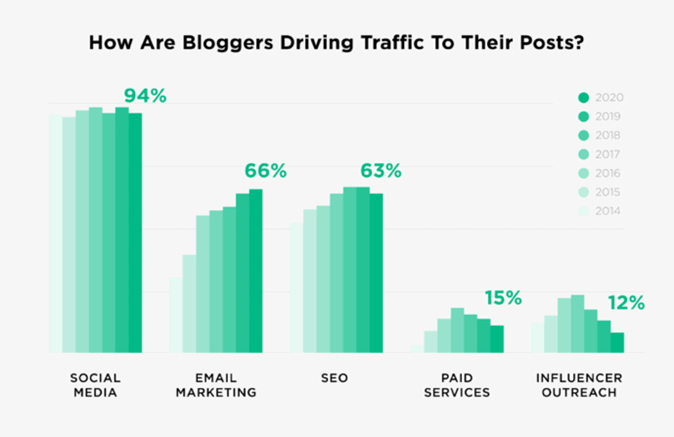 Some key areas to consider when utilising Promoted Content in your digital strategy:
Your Audience – Any paid activity needs to start with an understanding of your audience, who you want to convert, and where best to find them. Consider their behaviours, times of day they engage with content, what platforms are best to attract that audience, and then you can build promoted content campaigns from there.
Customer Journey / Sales Funnel – Consider what this looks like for your customers and where you want to attract interest in that journey / funnel. If it's top of funnel / brand awareness it might be a list of 'Top 5 places to visit in Belfast'. Versus middle of funnel, perhaps they've visited your website 2-3 times, it might be more targeted like 'Book your Trip to Glasgow and see these Amazing Landmarks!'.
Content – Really get inside the head of your audience and ensure the content you share is offering value, education or thought leadership to them. If you get those valuable clicks to your website, you want to keep them on the website, increase dwell times, and encourage them to review other landing pages – so content is always key.
SEO Strategy – Organic rankings are closely aligned with social media platforms, website content and of course, website clicks. So, work with your SEO experts (or ours!) and get their advice on keywords with high search volumes, or conversion-rich keywords you want to increase the real estate of – then create blogs and promote them accordingly. It can all feed into maximising your brand strength and search engine strength.
If done right, Promoted Content can position your brand as a trusted provider; and brand trust is one of the hottest commodities right now. For more information on Paid Social Advertising and Promoted Content, reach out and let's talk!
Loud Mouth Media are an award-winning Digital Advertising Agency with offices in Belfast, Glasgow, London and Dublin and are a Meta Business Partner. See more on our YouTube Channel, here.