For a lot of businesses, knowing how to optimise your website for search engine optimisation (SEO) can be a challenge. Knowing how to best communicate what you do to Google to ensure organic traffic is sent to your site requires skill and patience. But, while it can be a challenging area of performance marketing, when done right it is also one of the most valuable ways to drive consistent traffic, brand awareness, and customer loyalty.
Do you need SEO guidance? Are you wanting to drive organic traffic to your website?
Loud Mouth Media offer expertise in SEO – Get in touch here!
Our specialist SEO team have compiled 2 key areas to consider when it comes to optimising your site for organic performance.
Mobile First Index
Sounds scary, right? Don't worry, it's simple: it means Google now rates your website performance based on how it loads on a mobile device before other devices. For example, if your website is mobile optimised, that is something Google will reward. If it loads quickly on a Desktop but is loading slowly on a mobile device, Google may take into account your competitors' loading speeds, and possibly prioritise sending traffic to other sites. 
With SEO, it's key to remember that it's all based on the premise of Google understanding what you do, who your audience is, and trusting that your site is safe. If you tick these boxes, they will ensure your website is shown to relevant users searching on the Google network. Page loading speed falls into the category of Google 'trusting your site'. Your website will then be given a rating based on your mobile first index – and if you have a low score, make sure to prioritise improving the mobile optimisation of your site!
Once trust is established, Google will prioritise ensuring they understand who your audience is and show your website to the right audiences, which feeds into search terms and keywords appearing on your site.
Core Web Vitals
Core Web Vitals are a set of user-centred metrics which Google uses to quantify key aspects of the user experience in the real world. What does that mean? It's all about the user. Period.
The Core Web Vitals measure aspects of web usability including load time, interactivity, and the visual stability of content on the web pages as it loads. For example, let's say you visit a website and accidentally clicked on something because it had jumped down the page or it loaded slower than other areas of the page. This would be an experience Google wants to avoid you having.
As of June 2021, Google has incorporated the Core Web Vitals with existing search signals for page experience, including mobile-friendliness, safe-browsing, HTTPS-security, and intrusive interstitial guidelines. The overarching reason for this is so Google can ensure that user experience on both the search engine and the associated websites, is nothing but smooth sailing. So, what are the Core Web Vitals, and what should you be focused on?
Core Web Vital elements:
Loading

-

Largest Contentful Paint (LCP)

:

This is the time it takes for a page to load from the

moment

a

user clicks on any on-page link to when the page loads on their screen. 
Interactivity

-

First Input Delay (FID)

:

This involves how long it takes the user to interact with your page

, such as

clicking on links from the main menu and navigation bar, filling out forms, opening up "accordion text" on mobile devices. These are some of the aspects that are taken into account for

positive

user journey experience. 
Visual Stability

-

Cumulative Layout Shift (CLS)

:

This

takes in to account

the visual stability of the page

, and ensures that

all elements load

sim

ultaneously -

rather than having one or two elements load time lag. Any elements that take too long to load can cause users to click on something they didn't mean to

, resulting in negative user experience. Visual Stability

and

CLS are

p

articularly important to get right for mobile devices!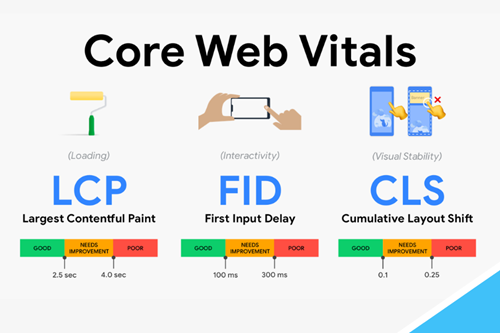 Do you want to know the status of your Core Web Vitals?
Want to get a free health check from our expert SEO team?
Get in touch today, and our award-winning Technical SEO Team can ensure you get access to the latest in SEO expertise and best practise. After all, it's important to reap what you SEO!