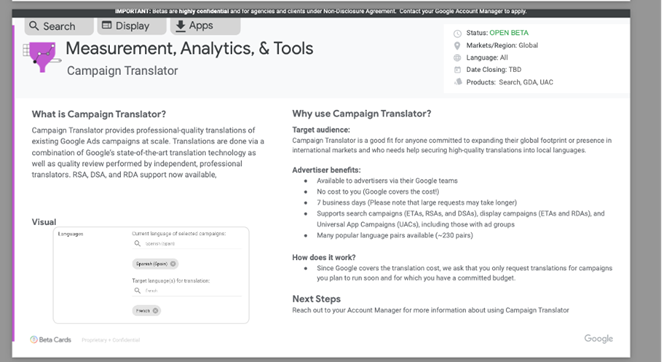 In this post-covid world, driving revenue from international markets is more competitive than ever. With much of the global workforce still working from home, or working in hybrid environments, brands need to capitalise on active global markets AND expand their audiences – and this is whether you're operating in the B2B or B2C market. But competition is thick!
As a Google Premier Partner (Top 3% Agency in the UK – hello!), Loud Mouth Media are also 1 of only 10 Agencies directly selected by Google to be part of their International Growth Programme. In other words, we are specialists in generating digital growth in markets both locally and globally.
// What does the International Growth Programme entail?
Our Agency have access to the latest tools and Google Innovations that ensure growth in global markets is achieved. Whether it be data analytics, competitor research, or utilising the latest in targeting and bidding strategies – We have access to an exclusive Google team who can ensure your expansion plans are maximised for conversions.
So, whether you're a British business looking to expand your brand reach to the South Pacific (G'Day Mate!) or a North American business looking to expand your client base to Spain (Hola!), or anywhere in the world really – we have the expertise required to develop the right strategy for you.
// Now we know what you're thinking, what if you don't speak that language?
As part of our Google connections, we have early access to a Beta innovation called 'Campaign Translator', a new tool to complement the Google Measurement and Analytics family. Now, while the new tool does what is says on the tin, the value of it is quite immense – and this is only in Beta!
// Campaign Translator (Beta):
Campaign Translator provides professional quality translations of existing Google Ads campaigns at scale. Translations are done via a combination of Google's state-of-the-art translation technology as well as quality review performed by independent professional translators… In other words, if you're looking to expand into international markets, this tool will ensure your content is tailored to those audiences, and you can save on expensive content development per-country / language.
Other benefits include:
Many popular language pairs available (c.230 pairs).
Supports search campaigns (ETAs, RSAs, DSAs), display campaigns (ETAs, RDAs), and Universal App Campaigns (UACs), including those with ad groups.
Now we need to emphasise, this is currently merely a Google Beta product, so we have early access ahead of the competition and that can mean lower CPCs and CPAs. So, it's worth exploring it if you see value in the product. Because the truth is, it might not stick around.
For all your international growth needs in the realm of Digital Performance Marketing, make sure to get in touch with our award-winning team. As recent winners of Best Small Paid Media Agency of the Year at the UK Paid Media Awards and gaining a Highly Commended from The Drum Search Awards for Biddable Team of the Year; Loud Mouth Media are the Digital Partner you need to see your objectives become achievements.
Follow us on social media and YouTube for the latest in all things Performance Marketing!
Loud Mouth Media are a leading PPC Agency in Belfast - see our specialisms, here.