It will be no surprise to you that the economic recession is impacting consumer spending, with the likes of Marketing Week saying, 'Over one third (34%) of British consumers said inflation had a 'major' impact on their Christmas shopping spend'. You're likely feeling the pinch yourself, considering value for money, adjusting budgets, and finding new ways to reduce spend. 
Our team are diving into the latest market data on what this downturn in the economy means for us marketers, and our 2023 strategies. 
// CONSUMER SPENDING – THE BACKGROUND 
First things first, a notable shift is that consumers are spending less on luxuries, across Europe clothing ecommerce is slowing, and home goods and electronics are seeing the same slow. This means your 2023 digital strategy needs to be carefully designed to ensure your budget is reaching interested target audiences, and you still get the much-needed return on investment. Ultimately less spend means your audience shrinks, so laser-focused budget optimisation is essential to ensure the audiences you do reach, convert for you.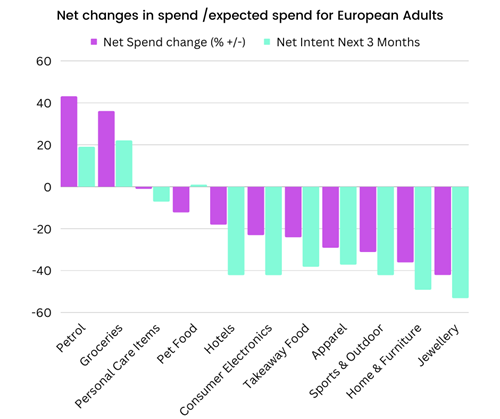 [Source: McKinsey Consumer Pulse Survey, October 2022]
// OPTIMISING YOUR 2023 STRATEGY  
New research by Meta (aka Facebook Marketing) highlights that there is value in different media channels for the different objectives of brand building and driving ROI. Social Media for example, is great for both building long-term brand awareness in addition to driving consumer purchasing for long term ROI. Whereas Search and PPC Advertising is better for purely driving website traffic to achieve short term ROI.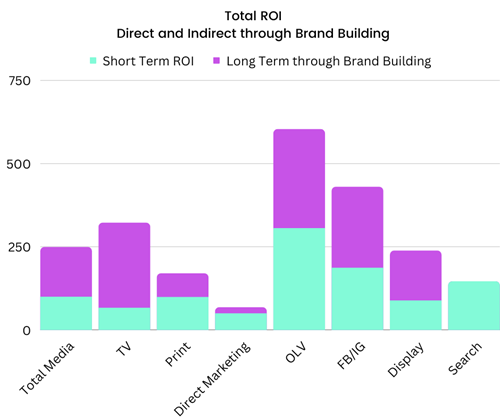 [Source: Meta Marketing Science 2022]
Unlocking a digital strategy that finds the balance between brand awareness and maximising conversions is essential, but so too is finding the right channels for your business objectives. You want to make sure that your strategy is driving full funnel sustainable growth, and seeing Facebook / Instagram (FB/IG) almost 50/50 for short term AND long term benefits; it's a positive sign for what's ahead in 2023.
So, let's talk about the channels to consider... 
// THE 2023 MARKETING MIX 
Marketers have already started to think about how the recession will influence 2023's strategies and what channels are going to achieve their objectives, while also considering return and value as top priority. Across the board, research suggests that digital media is winning the race as brands plan to drastically increase spend on Paid Social and Paid Search. We stand with them on that one as you can imagine, but we can see below the true value of digital advertising versus more traditional advertising: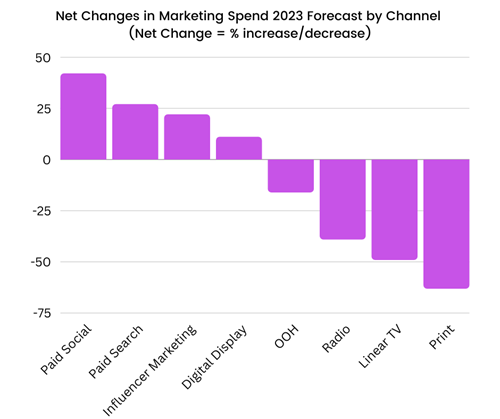 [Source: 2023 Media Budgets, Global Senior Marketers, October 2022]
In times like these, data like Cost Per Conversion, Cost Per Lead, number of conversions, search volumes, reach, impression share, etc should all be treated like nuggets of gold. Digital campaigns provide a level of detail which can be (and should be) used for ongoing optimisation, ensuring your target audiences are being measured and reached effectively for your objectives.  
As with any advertising, not every campaign has guaranteed success. But the key aspect of digital advertising, is every campaign gives you valuable insights, so no campaign is a total failure. Then, once you have analysed the data and nailed how to find and convert your audience, you can increase budget and drive market domination. 
// EXPERT GUIDANCE 
At Loud Mouth, we are completely transparent in sharing this data; allowing you to have access to how your campaigns are performing and the effectiveness of reaching your target audience for long term brand awareness and short-term ROI.  
Our experts have years of experience optimising campaigns to ensure your budget is spent effectively to reach your business objectives and drive sustainable growth.  
"More than half (52%) of the CMOs surveyed say they will look to agencies for support, while 36% plan to hire internally instead. In particular, CMOs say they will need agency support in areas like marketing platform implementation and migration (32%), digital strategy and consulting services (32%), and search engine optimisation (31%)." (Marketing Week) 
 If you're ready to improve your digital performance marketing for 2023, partner with our experts and get in touch today.