Did you know, 64% of consumers say they mistrust companies when it comes to protecting their personal data? 
Did you also know, 61% of high-growth companies are shifting to a 1st-party data strategy now? 
It's official, we can't ignore the change to 1st-party data anymore – Google Privacy is changing, and it's time to board that train too. The biggest change our Digital Ecosystems will see / feel in 2023, is that Google are sunsetting Universal Analytics (UA) in July 2023. Google Analytics 4 (GA4) will take over and offers a completely different landscape on data modelling than UA… so, is your Digital Ecosystem fit for 2023?
// What does the change from UA to GA4 mean?
Universal Analytics currently uses Cookie data, otherwise known as 3rd party data. In other words, when you accept cookies, GA drops a pin on your activity and can share that data to Universal Analytics for you to review, analyse and feed back into your digital strategies. 
The difference with GA4 is it's moving to an event-based model, or otherwise known as 1st party data. Aka, no pins being dropped unless you consent to it. It's bringing in Machine Learning to model data and make predictions on audience behaviour to assist in filling the data gaps that will appear and will even introduce features like 'Data Removal' where you can delete data from Google's servers. That in itself, is HUGE!
// The biggest changes you should be doing ahead of 2023
Sometimes all this Privacy talk can be overwhelming, confusing, and ultimately feels like a worrying landscape as we don't want to make any mistakes when it comes to data collection or usage. The consequences are pretty major if we do! But, there are some shifts you can implement now to make the bigger changes in 2023 feel less worrying:
1. Start Collecting 1st-Party Data now!
This is essential. To get the most out of GA4 and to ensure you still gain valuable insights on your audience and conversions, start increasing observable 1st-party data now. 
To help this process and to accurately measure and attribute conversions that fuel Google's automated solutions, you can add 'Enhance Conversions for Web' to your Google Ads campaigns now. You can also add a Lead Form to your website to ensure potential business contacts or New Buyers put in their contact information directly. This then accumulates 1st-party data.
Ultimately, this 1st-party data will allow you to Tag your website appropriately for GA4 and mean you don't have any blind spots in your Digital Ecosystem. 
How does it all work? See the Google breakdown: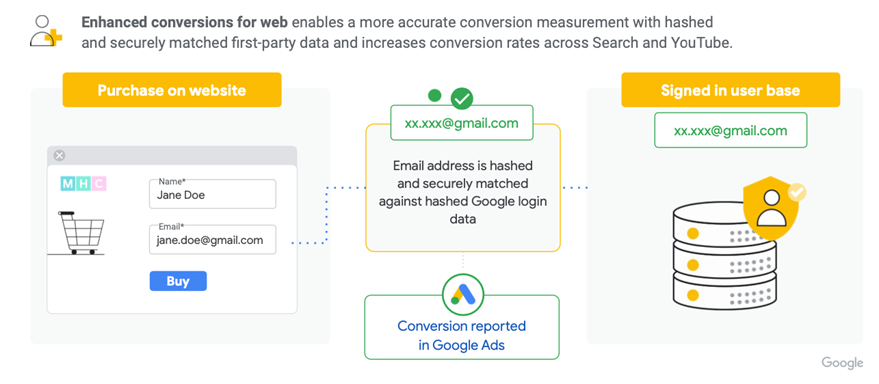 // Some Advantages of 1st-Party Data: Consent Mode
Google is bringing in some powerful new ways of modelling data, the first major player is 'Consent Mode'. Now, GA4 is all about using data we have the consent to use - Consent Mode adds another layer of automation that ensures you will get helpful data on conversions regardless. It automatically switches data from assumed behaviours to real-world conversions, depending on each individual user. This is part of Enhanced Conversions and GA4. See the diagram below: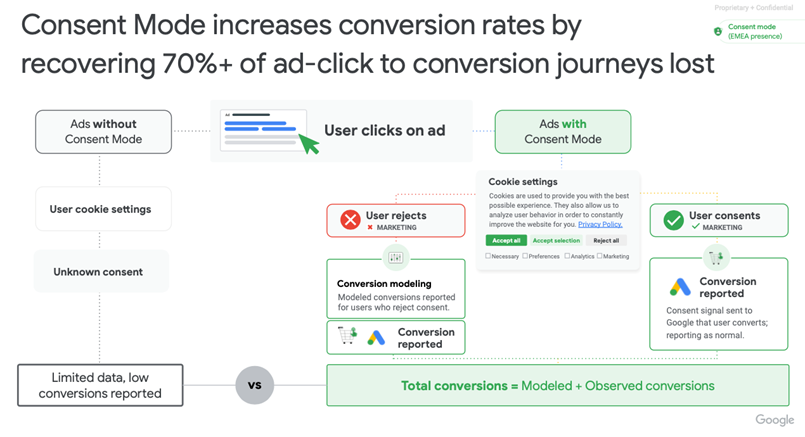 2. Set-up GA4 now too!
There is no avoiding it, team – UA is leaving us, so it's super important to set-up GA4 now, so even if you're unsure of how to best tag your website for 1st-party data, etc it can allow the machine to start learning in the background now. This means that come July 2023, you won't be starting from scratch. 
// Some Advantages of GA4
While GA4 has been surrounded by a cloak of insecurity to date, there are a lot of exciting improvements ahead:
It will allow for cross-platform analysis

: The event-based data will allow for different touch points and interactions being noted, and this can really enhance cross-platform analysis when it comes to your digital campaigns.

The amount of data

: Being that it's 1

st

 party data and then machine learning / AI for those wanting to remain anonymous, there will be a huge amount of valuable insights Google will be able to offer us all that to date, they simply haven't been able to.

The new engagement metrics

: The new 'event modelling' approach can really allow you to break down your engagement data into granular details, and truly understand the online behaviours of your audience / buyers / users / fans. Plus, being able to track things like scrolls down a page is a game-change.
// A Digital Ecosystem fit for Purpose
So, how do you know your Digital Ecosystem is fit for purpose as we navigate these major changes in Digital Marketing? Think of it like building a house. Regardless of whether you know what the final product will look like, if you have solid foundations the house will stand the test of time. Think of 1st-party data as those solid foundations – everything in 2023 and beyond needs to start with this.
Our advice for getting those foundations solid: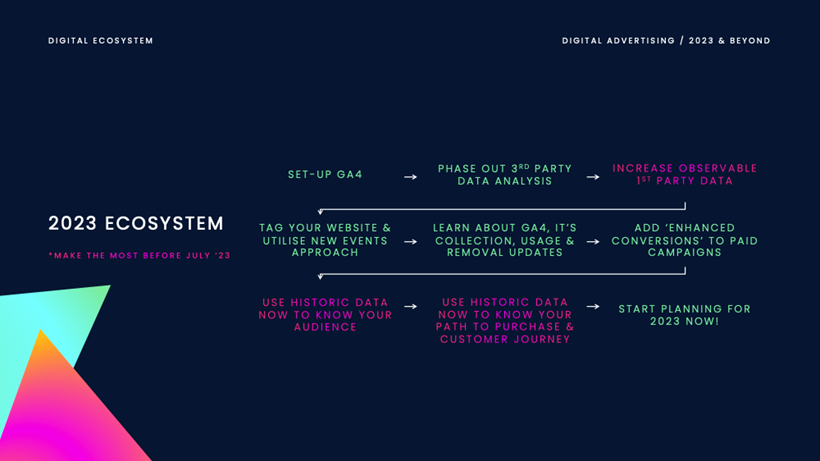 For more advice on how to optimise your Digital Ecosystem for success in 2023, or on GA4, Privacy and/or 3rd versus 1st party data, don't hesitate to get in touch with our expert PPC team. As a Google Premier Partner, we have access to a host of Google data and training that can ease your journey through the new year, and beyond. See more on their expertise, here.