And just like that, it's almost 2023…
Yes time is flying, yes we're all getting older, but more importantly – Google Analytics 4 (GA4) is fast approaching, and so too is the sunsetting of Universal Analytics (UA). If you follow Loud Mouth Media you'll know this, if you have a Google Analytics account now you'll see the reminder bar at the top of your screen 24/7 (yup, July 1st, 2023 is D day), and if you didn't know… well, we're here to help.
Rather than tell all our clients you need it set up ASAP, and by the way you REALLY do, we are going to give you a workflow of what that migration from UA to GA4 should look like. And can I just say now while I have the space to do so, the sooner you set up GA4 the sooner it can start collecting essential data to ensure your digital marketing and digital advertising efforts in 2023 don't go into a black hole.
// Let's start first with what GA4 is...
GA4 is an analytics service that enables you to measure traffic and engagement across your websites and apps. It's a new kind of property with different reports than what you're used to seeing in Universal Analytics properties. If your website currently uses a Universal Analytics property, it's being replaced by GA4 on July 1st, 2023. On that date, all standard Universal Analytics properties will stop processing new hits. Simply put, if you have a Universal Analytics property, you must migrate before it's too late. The earlier you migrate, the more historical data and insights you will have in Google Analytics 4.
// How does GA4 work?
GA4 is set to give you a complete view of consumer behaviour across web and app by using first-party, modelled data. Improved machine learning features, actionable reporting, and new integrations help you adapt to an evolving privacy and technology landscape to keep getting the insights you rely on… see our blog here for some more on what to expect:
Google Privacy, Is your Digital Ecosystem fit for 2023?
// How Businesses can Migrate from UA to GA4:
Look at your Account Structure
Arguably the most important step, because GA4 uses event-based, 1st party modelled data and takes into consideration privacy laws and regulations; it's essential to start with your foundations. Make sure you structure accounts in the right way to ensure there is no friction in the flow of data, and ultimately you get all the insights you need to assess success, failure and of course, conversion-data for the best return on investment. An example Google offer is for business who might have 1 website only: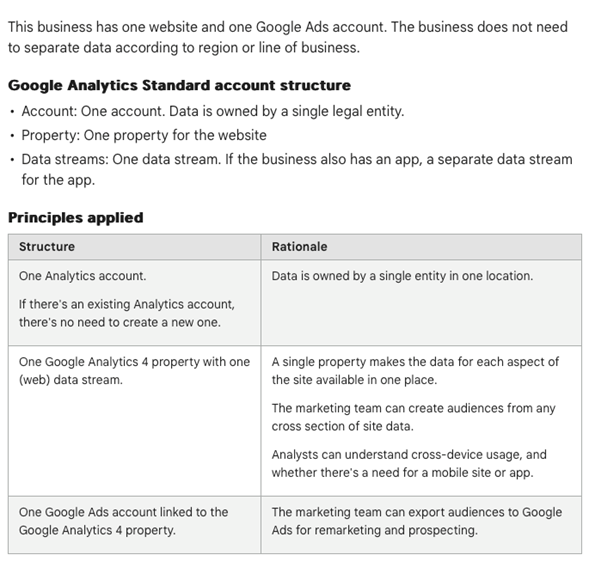 Create a GA4 Property and Data Stream
Google have made this bit easy, there is a GA4 Setup Assistant, you can access it here or follow the instructions in the banner at the top of your UA account. 
It looks a little something like this:
Admin > Check account/property > GA4 set up assistant > Get started 

Go to GA4 property > Create Property (upper left) > Name property > Fill in Info on Business
Collect Website and App Data
Now, the GA4 Setup Assistant might be able to reuse your existing website tags and help with this step, but if not – start collecting 1st party data of your own now. Implement webforms or pop-ups that encourage your audience to put in their contact information and give permission for you to use it for business needs now.
Turn on Google Signals
This is a task that takes little effort but is required for enhanced remarketing and reporting. Through the Setup Assistant, turn on 'Google Signals' and this will mean they add their insights and predicted behaviours for audiences who don't consent to sharing data.
It looks a little something like this:
Set up assistant > Set up conversions > Pick 'Import from Universal Google Analytics' > Import selected conversions
Set up Conversions
Just as you will have now on your UA account, goals are key to assessing key metrics and behaviours on your website. Ultimately how else do you analyse performance without them? So, you can use Google's 'Goal Migration Tool' to add your existing goals to your GA4 account or go in and manually add metrics you want to review.
This could include:
Clicking on CTA buttons
Clicking on phone numbers
Submitting webforms
Making a purchase
In GA4, it could also include:
Spending longer than 30secs on a landing page
Triggering specific event goals
Add Users
And by Users we mean audiences – aka the people you want Google to know are who you want to convert. The more granular you can be with this one, the better – if you have audiences by territory or by product purchased, make sure to split them out to allow Google's Machine Learning to work accurately because a big part of GA4 is consent. If your known audience don't consent to using their data, then Google will replace that data with predicted behaviours accessed from their HUGE AI servers.
Again, Google have a migration tool for this step, or you can add users manually and upload existing audience lists.
Now, we understand if this list makes you feel dizzy. Migrating from UA to GA4 is daunting, and you are NOT alone there. But the sooner you start the process and get that data generating in the background, the smoother your 2023 journey will be. Promise! And beyond this initial set up, there is of course the need to link to your Google Ads account ASAP.
For more help and assistance on GA4 and Digital Advertising, or if you want to discuss if your Digital Strategy is fit for 2023, make sure to get in touch with our expert team.