Everything you need to know about YouTube Ad Formats
YouTube is the second biggest search engine in the UK, and each month people are generating billions of views, making it the perfect platform to share engaging video ads with interested users.
Whilst the growth of mobile has been the biggest influencer of change in digital marketing in the recent years, video is the next huge area which businesses need to embrace to future-proof their online strategy.
Video advertising will only continue to grow further in the years to come, and getting your YouTube Ads strategy right will be at the core of this for digital marketers. It can be an extremely effective way of driving brand awareness and, if done correctly, provide a cost-effective way of building your brand online.
The below graph shows the difference in how advertisers spend online against how much time users actually spend on each platform: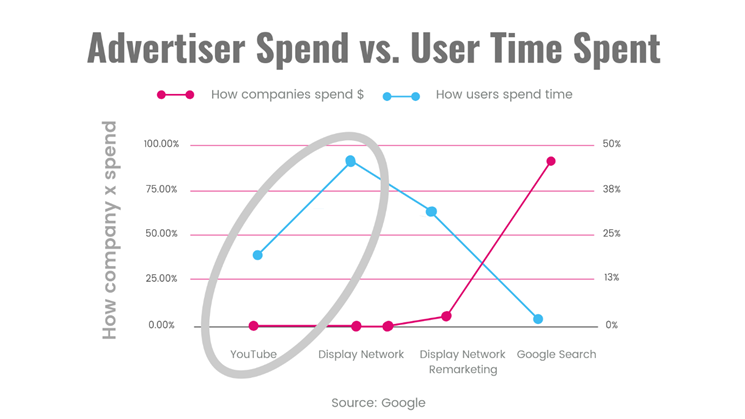 Clearly, some advertisers are missing a trick when it comes to using YouTube Ads – possibly due to a lack of knowledge about best practices to use.
Our guide to the available ad formats on YouTube will ensure you're covered for your video advertising campaign.
Youtube Ad Formats
These are the YouTube Ad formats currently available to advertisers:
TrueView in-stream Video Ads
TrueView Discovery Ads
TrueView for Action Ads
TrueView for Shopping Ads
Bumper Ads
Masthead Ads
TrueView in-stream Video Ads
TrueView in-stream are ads which appear at the beginning, middle or end of a YouTube video, and are up to 30 seconds long. The cost for these ads is based on impressions, with the advertiser being charged for every 1,000 impressions. These can be either skippable or non-skippable.
TrueView Discovery Ads
These appear in YouTube search results, and watch pages on desktop, mobile, and the YouTube app. These ad formats are made up of a thumbnail image from your video ads, and advertisers are only charged when a user clicks through to the ad.
TrueView for Action Ads
While YouTube has been traditionally used as a way for advertisers to increase their brand awareness, new formats are being created which are specifically encouraging users to convert. TrueView for Action campaigns allow advertisers to drive leads and conversions by adding prominent call to Action (CTA).
TrueView for Shopping Ads
TrueView for shopping allows marketers to drive sales to ecommerce sites by linking your shopping feed so that videos can be shown which showcase your products.
Bumper Ads
Bumper Ads are 6 second, non-skippable ads which allow advertisers to reach a broader audience and further increase brand awareness.
Masthead Ads
Masthead Ads on YouTube allow advertisers to place their ads on the YouTube home page – it's essentially a billboard ad which can be placed in front of a huge, non-targeted audience. These ads generally will run for a significant daily fee, which will vary dependent on your location. In Ireland these can cost $9,000 per day, while in the US this can come close to $1m on certain days.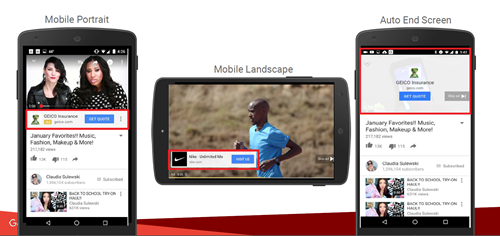 YouTube Ad Specs
When it comes to getting your YouTube advertising strategy down, you want to make sure you are using the correct video specs, or the platform will not be able to process the ad.
There are a number of file formats which are acceptable to upload as part of your campaign, including MP4, MPEG, AVI and Quicktime. In terms of resolution, YouTube recommends 640x360 (16:9) or 480x360 (4:3). Here's the full list of recommended specs for videos to be used in YouTube Ads:
File format: AVI, ASF, Quicktime, Windows Media, MP4, or MPEG
Preferred video codec: H.264, MPEG-2, or MPEG-4
Preferred audio codec: MP3 or AAC
Resolution: 640x360 (16:9) or 480x360 (4:3) recommended
Frame rate: 30 FPS Maximum file size: 1 GB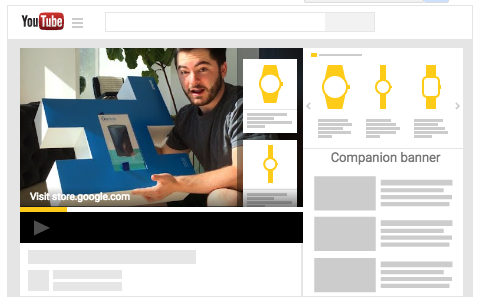 Best Practice for YouTube Ads
While the actual best practice may differ for each of the various formats, there are a few things that are generally recommended in order to optimise your performance in YouTube Ads.
Videos should:
Deliver the message towards beginning of video - Consumers can skip video after 5 seconds
Have a clear call-to-action
Be short and concise
Show company brand at beginning of video
Have colours & fonts which match brand
YouTube Ads offer a wide range of functionality for advertisers, whether you are a small business or a large corporation, an ecommerce store or a bricks-and-mortar location. At Loud Mouth Media we have won awards for our video advertising campaigns, and have a team of YouTube Ads experts on hand to set up and manage your campaigns. Get in touch to find out more.