Optimising your Ads For Instagram
Instagram is currently the fastest growing social media platform and for many, the app they most frequently use throughout the day.
Obviously this has caused businesses to place an extra emphasis on connecting with the billions of the platforms users.
You need to ensure that you have an Instagram strategy in place for 2020 & Loud Mouth Media are here to put together an overview of the various advertising formats & image sizes to optimise your social media performance.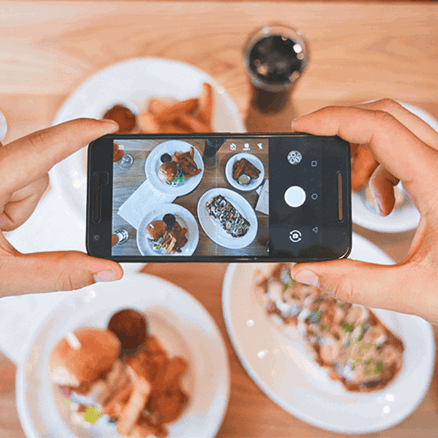 Creating engaging Instagram Content
Whether working with images & videos in the feed or the stories section, there are a few factors that you should note.
Firstly, do not use URL's within the caption as unlike Facebook the links are not clickable. Secondly, avoid placing logos or text within 14% of the top or bottom of an advert.
The likes of "Profile Icons" or "Call To Action's" (CTA) will hide this content. It's also good practice to keep captions in the region of 130 characters.
One of the main distinctions between Instagram & Facebook is that Instagram is a mobile-first platform; it was created solely with mobile users in mind.
Obviously it's important that your videos, graphics & copy should all cater mobile audiences but you must also ensure that any landing pages or links that you are directing your users to, are optimised for mobiles.
Instagram is a fantastic way to engage with potential customers. It is a "one at a time platform", forcing users to pay full attention to whatever it is you are offering.
There are various types of formats in which you can display these adverts & we will look at them below.
Additionally, advertisers may want to limit overlay text on images as Facebook's Ad Manager could reject your image. Consider this for all image formats as well.
Video has blown up in online advertising in the last few years & shows no sign of slowing down.
This is no different on Instagram where around 25% of all ads are single video. However it's important that you understand the sizes & specs before you go about creating your Instagram video adverts.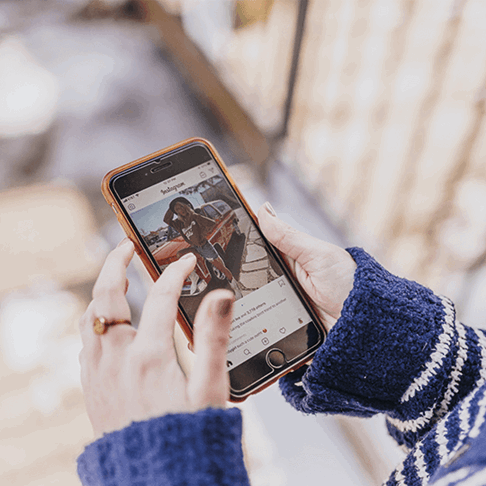 Instagram Carousel Ad Specifications
Instagram News Feed Sizes
Instagram Carousel Ads: Identical to the carousel service that operates on Facebook, this enables brands to showcase a variety of images or videos.
It offers great value for money in the sense that it enables marketers to display an assortment of products in front of your user within the one advert, as well as keeping them engaged with multiple pieces of content to look at.
Images need to be square size (1080 x 1080 pixels) & you are allowed to include between 2-10 images within the carousel.
You can also opt to include video within your carousel ads. They can contain up to 10 within the one post, however it's recommended not to include too much content, as you could potentially overwhelm your audience.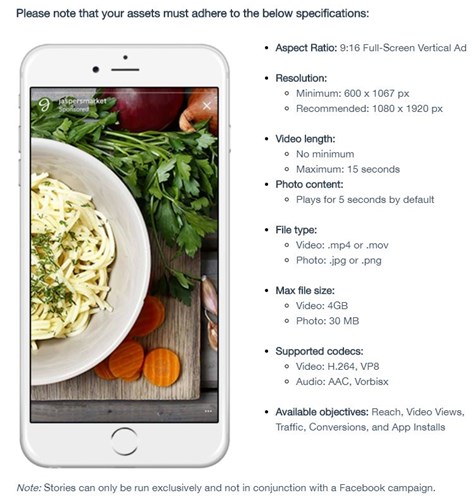 Instagram Landscape, Square & Vertical Ad Specifications
Instagram Landscape Ads: Stand out from the crowd with these type of images. They can be used effectively for panoramic & outdoor shots. Works particularly well with impactful typography. The deal size is 1200 x 628 pixels.
Similarly Instagram Landscape videos offer the ability to establish that same scenic effect. This style of video enables users the ability to unlock their inner Spielberg, offering a cinematic effect for their videos.
The recommended format for these videos are MP4 & MOV. With the max video length for this & all other formats being 120 seconds.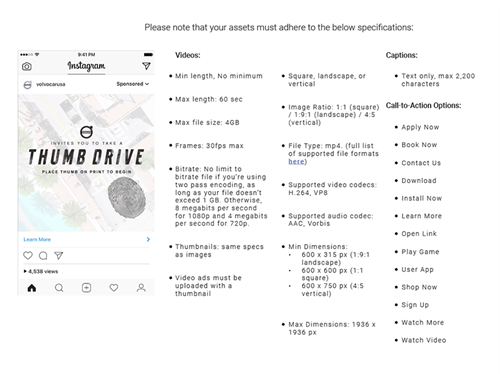 Instagram Video Ad Specifications
Instagram Square Ads: The square format takes up more space on the overall post layout of Instagram & used predominately for portrait style images.
The recommended size is 1080 x 1080 pixels. With the square image & video formats, it's important to ensure that the CTA does not hide anything important from the image or video.
Instagram Vertical Ads: Vertical tends to be the most popular format organically, as this is the dimensions the majority of phones take a picture in.
Ensure that you crop an image effectively so that your adverts display as planned. The recommended size for these type of adverts is 1080x1350 pixels.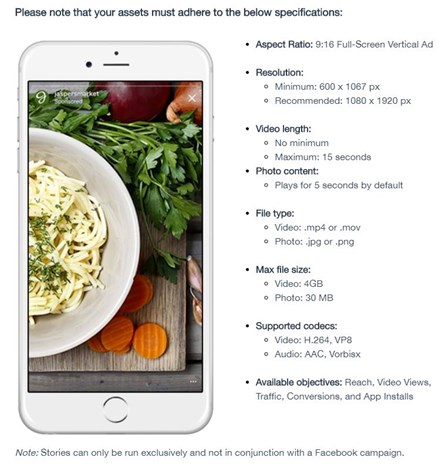 Instagram Stories Ad Specifications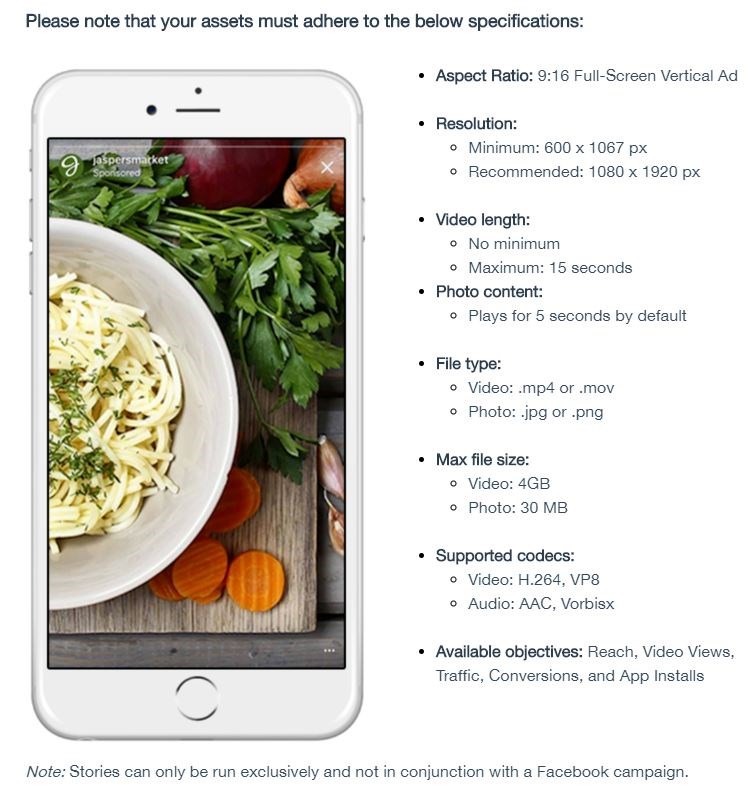 Instagram Stories Image Ads: More & more people are digesting their information through 'Stories'.
Since its introduction stories has driven time spent by users on the platform up by nearly 30 minutes.
Stories offer the ability to include to GIFs & stickers that can help make your standard images stand out amongst the crowd, as well as prompting them to swipe or click for more information.
It's recommended to have any images in your Instagram stories at 1080 x 1920 pixels.
The Stories section is a great place to run video ads, as the majority of users expect to see videos in this section, meaning that your adverts look more natural.
70% of Instagram stories are watched with sound, so it's worth bearing this in mind when trying to get a particular message across.
Ensure that your video is at least 720p & makes the most of the 15 seconds offered to the videos.
By following the points above you will be able to optimise your advertisements on Instagram. However should you want any additional help, we have experts that will be able to help you out with your Social Advertising. So don't hesitate to get in touch!