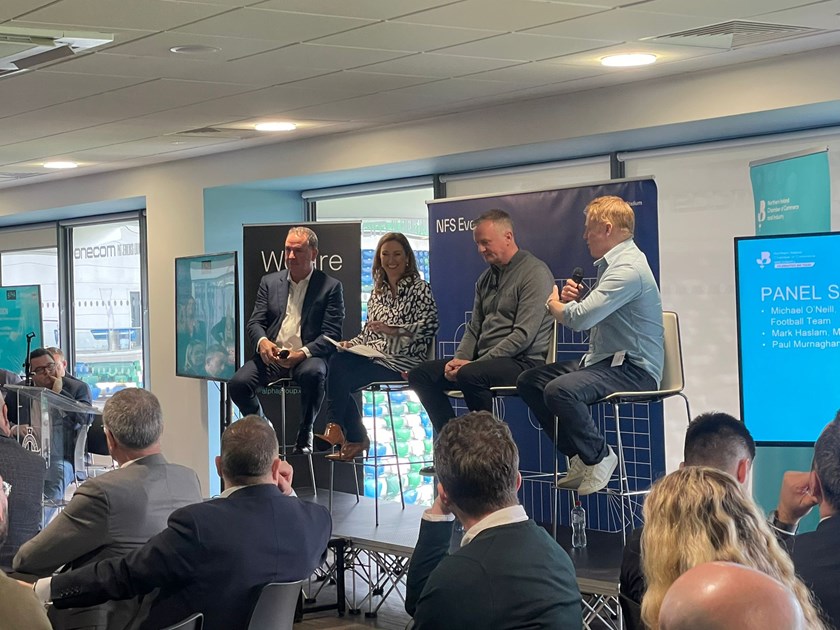 Today our very own OG Loud Mouth, Mark Haslam was part of a very exciting panel discussion today at Windsor Park, The National Football Stadium.
Joining Michael O'Neill, Manager of the Northern Ireland senior men's football team, and Paul Murnaghan of BT Enterprise NI – they were interviewed by The BBC's Claire McCollum about key themes like leadership styles, business growth, leading teams, and culture.
Starting with the legend that is Michael, he shared his unique leadership journey and how, by using analytical data and strong management, he inspired his team to deliver against all odds to top their qualifying group in the 2016 UEFA European Qualifiers. He also discussed setting his sights to another major final, this time next year's UEFA Euro finals in Germany.
While we're particularly bias to our OG, some of the takeaway areas he discussed included:
The 4-day working week – The Loud Mouth trial
Teamwork and culture
Transparency with clients and your team
The Loud Mouth Media journey
Thanks to the NI Chamber of Commerce, to the Northern Ireland Football Association, and the Windsor Park team for making it a success. Having our Senior Leadership team rub shoulders with some of Northern Ireland's most promising business leaders made for a great Thursday!
Loud Mouth Media are a sponsor of the Northern Ireland Football Association.