More people than ever are turning to Google, Bing and other search engines to find out information and to purchase products. But what if you're a small business struggling to appear in search results?
Search engine marketing has evolved in recent years, and this growth is only likely to continue in the years to come. More people than ever are turning to Google, Bing and other search engines to find out information and to purchase products. But what happens if you're a small business struggling to appear in search results?
Many small businesses believe that, because they don't have mega marketing budgets, they are unlikely to ever appear on the first page of Google, which is crucial to driving visibility, traffic and conversions for any business. However, this is certainly not the case.
Small Business SEO is concerned with helping SMEs to increase their organic search visibility. There are a whole host of actionable tips you can follow to ensure your website is optimised to appear higher for the keywords that are relevant to your business.
What is SEO?
Search Engine Optimisation (SEO) refers to the practice of achieving increased visibility for your website on the organic search engine results page i.e. not the paid ads that appear at the top of the page.
Including elements both from a technical perspective (Technical SEO) and a content perspective (On Page SEO), SEO improvements aim to achieve increased awareness and website traffic, improved rankings and ultimately drive more enquiries, sales or conversions.
Google uses A LOT of methods to decide which pages are worthy of the top positions in its Search Engine Results Pages (SERPs), and it is constantly amending and updating its algorithms for improved user experience, keeping SEO experts on their toes.
Google primarily bases its rankings on two core principles - relevance and authority.  Search engines evaluate relevance based on page content, as well as the quality and quantity of links pointing to that page. While Google has said that it does not have a specific measure for how trustworthy a site is, if it contains low-quality content and no outbound links to or from trustworthy sources, chances are it is not going to perform well in search results.
While the algorithms themselves are highly complex, Google has always maintained that it rewards pages that provide a quality user experience; highly relevant and quality information that satisfies the query of the searcher.
In the past, it was possible to use certain black hat tactics to boost performance, but nowadays the best way to rank higher involves a combination of technical SEO, quality link building and on-page SEO to provide the most informative and useful content.
So, what can your small business realistically do about SEO in order to help you market your website on Google organically?
Site structure
Good news if you're reading this before you begin to develop your business's website - taking SEO into consideration when you are creating your site will allow you to structure it in a way that is both friendly to users and search engine crawlers.
In 2019, good developers should be creating websites with SEO firmly in their focus, as a poorly designed site structure can make your pages difficult to understand for crawlers.
It's important that your site follows a logical structure; for example, an ecommerce site should have a home page followed by a variety of category pages, with sub categories and ultimately product pages. If your structure is hard to follow from a user's perspective, chances are Google and other search engines will also have a problem understanding it.
Even if your website has been up and running for a number of years, it does no harm to review it and see whether changes can be made to streamline its structure.
Improve UX & Speed
Gone are the days when simply stuffing a page with keywords would help you rank better for that keyword – that's now considered spammy as it doesn't offer a user information that is relevant to their query. Google's main focus is now to produce the results with the best experience for users, both in terms of page content and how users interact with it.
UX and SEO for small businesses are now inextricably linked. If a user finds navigating through your pages a difficult process, they are likely to bounce off quickly. Search engines are now quicker than ever at identifying those pages and ranking them down accordingly. Key to this is page speed – nothing frustrates a user more than a website that loads slowly, especially on mobile.
Nowadays it's just too easy to return to a search results page and choose an alternative if your original choice takes too long – that's why it's important to ensure that your code is clean and images are compressed. Using a tool like Google PageSpeed Insights you can diagnose any issues affecting page speed quickly – get them fixed as soon as you can and provide users with the best experience possible.
Submit a sitemap to Google
To help your small business SEO, providing handy instructions to search engine crawlers on what to do with your website pages is crucial. The easier you make this process, known as 'crawling', the easier it will be for search engines to understand the content of your site.
One key way of making this happen is by generating an XML sitemap for your site. This works in much the same way as a standard on-page sitemap works, providing a list of the pages on your site so that it can be easily navigated. The only difference is that XML sitemaps are built to be read by search engines rather than people.
Most Content Management Systems (CMS) have an option to generate a sitemap, which makes this process easier for you. Sitemaps also provide information to Google as to when the page was last updated and how often they should crawl for new updates.
You can find an example of how an XML sitemap looks here.
Your sitemap should include all the pages you want people to see, and shouldn't include any pages that should be kept private, such as pages in your CMS or those that have no value to a user.
Keyword Research
One of the key aspects of small business SEO is understanding what your potential users and/or customers are searching for on Google and other search engines, as well as the intent behind these searches.
Keyword research forms the building blocks on which all good SEO strategies are based. It can provide guidance on how to optimise your content, give you ideas for new content creation and even provide a framework as to how to structure your whole site!
There are several tools you can avail of (many of which are free) that can help with keyword research, providing valuable data on average monthly keyword searches, and how difficult they are to rank for.
When it comes to small business SEO, you really have to be smart when it comes to what keywords you want to optimise for. For example, if you are a local hardware shop based in Glasgow you may find it hard to rank for a general search query such as 'garden tools', which has a monthly search volume of more than 18,000.
By looking at lower volume, but less competitive keywords, you may well find it easier to rank even for non-local keywords, such as 'electric garden tools' (210), 'vintage garden tools' (210) or 'essential gardening tools' (170).
From then, you can start to focus on more local keywords that may be more relevant to your business, including keyword modifiers such as 'glasgow', 'scotland' or 'glasgow city centre'. For example: 'essential gardening tools Glasgow'.
The keywords you will select should depend on what your objectives are – do you want to bring people to your website to make a purchase? Or do you want to provide them with information so that they can head to your physical store? Tailor your keyword research around these objectives to put together a solid SEO strategy for your business, big or small.
Content
As the old marketing saying goes  - 'content is king'. The infamous phrase coined by Bill Gates has been adopted by marketing professionals the world over, and the idea certainly holds a lot of weight.
The basic premise is this – provide excellent, useful and accurate content to users and the rest will look after itself. While we would certainly argue that it's not quite as simple as that when it comes to SEO (particularly for small businesses), having great content on your site is definitely one of the biggest ranking factors that Google takes into consideration.
It makes sense – when someone performs a Google search, they want something. Whether that is a simple answer to their question, a product to purchase or to find out what the weather will be like tomorrow, they are provided with content that attempts to fulfil that query. So, if you've got limited content on your site, or content that does not meet the needs of Google searchers – it's time to reassess whether you want to have a website at all.
Content can come in many forms. Traditionally we think of blogs and case studies when it comes to content but, content also takes the form of product pages, videos, infographics and many formats.
For small business SEO, refer back to the objectives of your website and business, and what types of audiences you are targeting. What content will be useful to them? Research what ranks on the first page of Google for your target query and figure out why Google has decided to rank these pages above all else.
Generally speaking, content that is longer (1,000 words or more) is accepted to be of high value and provides plenty of useful information for users, but this ultimately comes down to quality and whether your page is likely to satisfy a user search
Meta Data
Nothing brings fear into the mind of the SEO beginner as much as the concept of Meta data. Meta titles and descriptions refer to tags that you can edit in the backend of your site to provide information to Google and other search engines about what is on the given page.
Where you are most likely to see these appear is on a Google search engine results page (SERP) alongside the page URL, and it should look something like this:

It's important to note that search engines can (and often do) replace these with something else on the page that they believe to be provide a more accurate representation of what is on that page.
However, these tags are a great opportunity to optimise your pages for keywords you want your business to rank for. Most content management systems will have an easy way to input these into individual pages on your site, but if not speak with your developer to see how this can be done.
In addition, don't be afraid to use these to advertise your product or service without going overboard with inaccurate information or keyword stuffing. It's important to be concise and clear, as you are competing against other pages which appear in the SERP.
Link Building
A key part of how Google ranks web pages is by determining site authority in relation to a certain topic. It does this by examining the quality and quantity of links pointing to the site from other pages on the web.
This is one aspect where small businesses have a distinct disadvantage compared to bigger rivals. Larger and perhaps more well-established national companies are likely to have more backlinks and higher domain authority. However, once you have built up some great content on your site, it's time to start letting people know about it and even getting it hosted on other sites.
No matter what sector or industry you are in, there are numerous blogs that will be happy to accept guest content and will link back to your site in return, so long as the content you provide is of great quality and matches their audience's needs. Find out where these resources are, and reach out to see if you can collaborate with them.
Using social media to share your content is another way of gaining more exposure and potentially more links to your site.
Local SEO & Google My Business
If your small business focuses mostly on the geographical area in which it is based, using a number of local SEO tactics may be a useful way of gaining more visibility on Google SERPs.
Key to any local strategy is claiming your Google My Business Account, which is where you provide information to Google about your business to appear in the so-called 'Knowledge Panel' on the SERP. This should look something like this: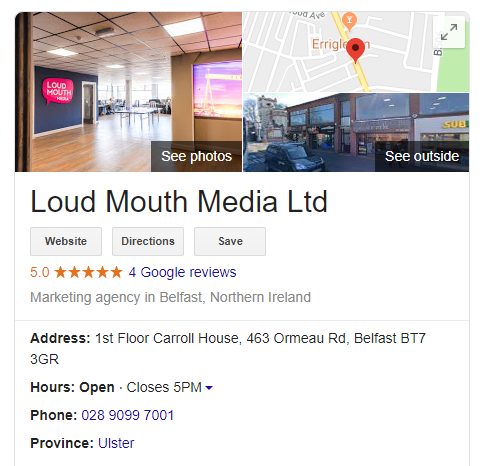 As well as the knowledge panel that appears in SERPs on Google, local businesses can also appear in a list of three businesses in what's known as 'snack pack' results. These results appear above the standard organic search results; for example, a search for 'butchers near me' brings up the following results for us: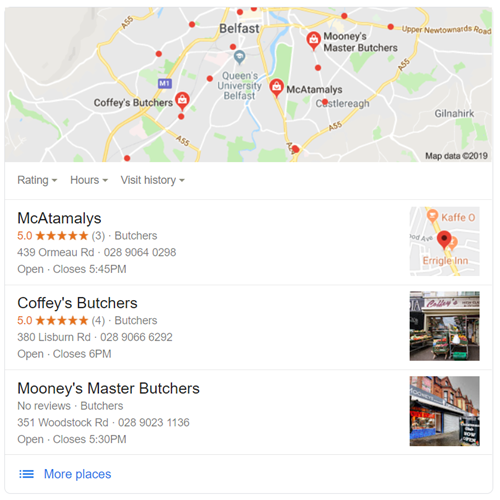 Claiming your Google My Business account will help your site to be more likely to appear in these results, and provide searchers with more information when they arrive on a SERP.
Setting up your Google My Business account is critical for small business SEO, particularly if you rely on store visits for your business. Setting this up is not difficult, although Google may request verification of your business location to ensure you are from the business.
Once you have access to the account you can input a host of information which helps Google and users understand your business better. This includes your location, opening hours, contact details, photos and much more.
In addition to setting up and optimising your Google My Business account, you can also localise your website so that you can naturally target keywords with local intent.
A recent study found that 76% of people who look for a nearby business via their smartphone end up visiting one of those businesses within the next day, while 28% of these searches end with a purchase.
By conducting a period of keyword research focused around keywords that contain reference to the local city, town or region you are targeting, you can optimise for the terms that are most likely to be searched for by your target audience.
Use free tools
Big businesses and large corporations often have seemingly bottomless pits when it comes to marketing budgets, and if they are smart they will put some of that towards some of the excellent but expensive tools out there that can help with SEO. Does that mean that without spending hundreds or even thousands per month on fancy SEO tools you won't be able to rank for any keywords? Absolutely not. 
Luckily, there are loads of tools out there which can be utilised to help your small business SEO – many of which won't cost you a penny. Among the best tools out there are the ones which come directly from Google itself through G Suite.
You can set up a Google Analytics and Google Search Console account for your domain, which will provide you with a wealth of data related to the traffic arriving to your site and how your site perform in Google search results.
There are a number of free keyword research tools you can use to find out search volumes, analyse SERPs and provide you with ideas for content creation and optimisation. For example, Answer The Public is a fantastic resource that provides keyword content ideas, segmented into questions, comparisons and other variations.
Screaming Frog SEO Spider allows you to crawl up to 500 URLs on your site for free, giving you a breakdown of the main issues for your site from an SEO perspective, while the free version of Siteliner crawls your site for duplicate content, broken links and other issues which affect visibility and technical SEO.
Depending on the type of CMS you have for your site, there are free extensions you can install that can help point out errors and allow you to make changes easily to the main factors that will affect your SEO. For example, if you use Wordpress, Yoast SEO offers a free plugin to assist with this.
The point is, you don't need to have a huge budget every month to spend on SEO tools when there are plenty of free alternatives that will be adequate for your needs.
Keep up to date
Search engine algorithms are in a constant state of adjustment, as Google, Bing and Yahoo attempt to provide users with the best and most relevant results for users' search queries. That's why it's highly important to keep up with the latest trends when it comes to what is good for SEO and what is bad for SEO.
For example, back in Google's early days, you were to just fill your content with your target keyword repeatedly without regard for a how a user sees it, and that would be enough to help you perform well for that keyword. Fortunately those days are now behind us and the emphasis is on providing useful content to users, but it's important to keep up with the latest developments in order to know what best practice is at any given time.
Search Engine Land and Search Engine Journal are two resources which provide up-to-date SEO news and anything that may affect results, so it's worth keeping an eye on both to follow the latest trends.
So…
As a small business, competing against larger companies with bigger budgets is highly achievable. Even spending a few hours per month optimising your website can reap huge rewards, particularly when other businesses at a similar size and scale are not even thinking about SEO yet.
Some of the tips included above may seem small, but combined they will help your business website to be more search engine friendly and more likely to appear in higher positions for those keywords you are targeting.