As we enter into a new year and a new decade in 2020 – the annual news has broken once again – SEO is dead. Or is it?
Many both within and outside of the digital marketing industry have long predicted the demise of Search Engine Optimisation (SEO) as an effective channel when it comes to promoting your brand or business online.
So much so that (ironically enough) a significant number of searches happen on Google every month for the search term 'is SEO dead'.
The short answer to the question is 'no' – however it must be said that SEO is in a constant state of flux.
The ever-changing nature of Google's algorithm ensures that what's relevant in the industry today may be old news tomorrow – so in a way what people used to consider as SEO is dead. Keyword stuffing, thin content and building links at all cost as part of your SEO strategy is certainly sixfcontact feet under.
Why do people think SEO is dead?
SEO has had a troubled history and is (wrongly) considered by many to be a 'dark art' of the digital marketing arena. When people think of SEO, they think of shady tactics which aim to dupe Google into ranking your web pages number one on the SERP so you can get lots of traffic to your site.
While at one point this was SEO in its most basic form, search engines have progressed and evolved into more complex systems which can better determine the intent of individual search terms and provide highly relevant results.
So in a sense what many people traditionally see as SEO strategy is now dead – digital marketers now have to approach their organic search in a completely different way.
Organic CTRs are falling
Another reason many people are putting the nails in their SEO coffins is the fact that Google has been making major changes on the SERP in recent years. Much of these changes are not particularly favourable towards organic search results – particularly on mobile. More ads, more maps results, more featured snippets and just more features in general: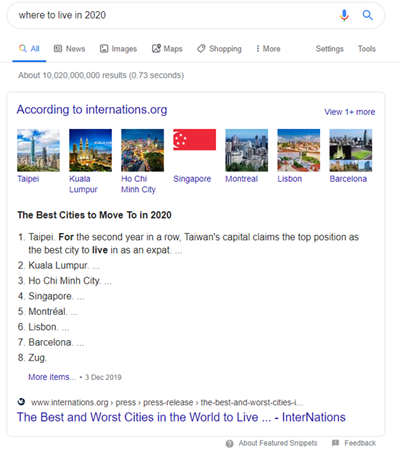 More than 50% of searches now take place without a click being generated – this would have been almost inconceivable even five years ago.
As a business Google is heavily dependent on Ads for its revenue – more and more of its emphasis is going towards this – and the inclusion of more of these zero click searches is designed to keep people on the SERP rather than encouraging organic clicks through to websites.
While this presents a challenge to the SEO industry as to how to stay relevant – it is more about changing the scope of what we actually call SEO. Getting to position 1 is no longer enough – position 0 is the new benchmark.
Content is now more important than ever before with the likes of voice search and featured snippets now becoming the norm rather than the exception.
How to keep your SEO strategy alive in 2020
While SEO is certainly not dead, there are a number of things you can do as a business or organisation which allows you to keep on top of the latest algorithm and SERP changes.
Fundamentally Google's organic search results, whether that be the standard text results or any of the additional features which have popped up over the years, exist to provide searchers with the most relevant results to what they want. Search intent is key and its importance will only rise in the years to come.
That's why your SEO strategy MUST address the gaps in people's lives, regardless of whether that gap is filled with information, products, services or otherwise.
In many ways in order to optimise your website for Google you need to optimise it like you would a business.
As an ecommerce site for example, give people plenty of options of good quality products which can be easily found and purchased, in addition to plenty of information about those products and why people might need them. The same as what you would do in person in a bricks-and-mortar store.
No amount of optimisation in terms of meta tags will ever be able to rank a website which does not satisfy search intent.
Mobile Mad
If you haven't already done so, you need to start thinking mobile first as far as your SEO strategy goes.
With Google's move towards a 'mobile-first' index, ensuring your site is optimised for mobile devices is crucial. Google has recognised that the increasing use of mobile is only like to continue further in the years to come so it should be front and centre of your website strategy.
Focusing on things like your speed, user experience and user journeys will ultimately contribute towards your SEO performance in the year ahead.
Google My Business
Key to any SEO strategy is claiming your Google My Business account, which is where you provide information to Google about your business to appear in the so-called 'Knowledge Panel' on the SERP. This should look something like this: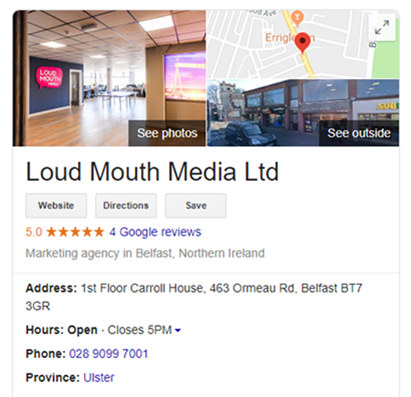 As well as the knowledge panel that appears in SERPs on Google, local businesses can also appear in a list of three businesses in what's known as 'snack pack' results:
Claiming your Google My Business account will help your site to be more likely to appear in these results, and provide searchers with more information when they arrive on a SERP.
This is what we in the SEO industry call 'Position Zero' – those results which appear even above the first ranked organic result. These are just some examples of how SEO has changed rather than simply died.
Content
Content can come in many forms. Traditionally we think of blogs and case studies when it comes to content but, content also takes the form of product pages, videos, infographics and many formats.
It makes sense – when someone performs a Google search, they want something. Whether that is a simple answer to their question, a product to purchase or to find out what the weather will be like tomorrow, they are provided with content that attempts to fulfil that query.
So, if you've got limited content on your site, or content that does not meet the needs of Google searchers – it's time to reassess whether you want to have a website at all.
Branch out
While SEO should be a key concern for your website in 2020, if that's where you put your sole focus you are unlikely to be rewarded with major increases in traffic, visibility, revenue or leads.
Even at this point, for many websites brand search traffic still makes up a higher percentage of their organic search traffic. Generating demand for your brand as well as servicing it is key.
Other top of the funnel marketing channels which generate brand awareness will ultimately aid your organic search performance, whether that be traditional media advertising such as TV or radio, paid or organic social media, or even paid search campaigns.
SEO is still alive and kicking – contact us now for a free consultation on your organic search performance. Search engine optimisation remains a key part of the digital marketing strategy for your website in 2020 – get optimising with a free SEO health check.