Did you know that June is National Effective Communication month? To celebrate this month, we want to talk about digital communication and its importance for businesses.
Effective digital communication has never been more important for businesses with 86% of adults in the UK using the internet daily. The large number of potential customers browsing online daily on various platforms can be daunting for businesses in planning effective digital communication and standing out from the noise! To help, we have gathered some top tips to make your job easier; read on to find out how to connect effectively with your audience online! 
Have an active presence on social media
With 63% of people in the UK using social media every single day, businesses have a great opportunity to connect with a huge number of potential customers!
You must first figure out which social media channels your potential customers are most active on to enable you to engage with the right people effectively. Social media is vital to develop your brand image and market your products and services. You can communicate effectively with your audience organically by:
Producing engaging relevant content that appeals to your audience
Responding to customer queries, reviews and opinions to build and nurture relationships with your audience.
If you already have an active social media presence, you may benefit from Facebook and Instagram advertising. With the Facebook algorithm change in 2018, organic content is less visible within the news feed and it is becoming harder for businesses to reach potential customers.
Facebook and Instagram ads will allow your business to reach more customers and can help overcome this problem. You can target potential customers based on age, gender, income, interests, behaviours, relationship status, life events, location and many more. This helps you narrow down your audience to more refined consumers who may be interested in your business but might not have viewed your organic content.
Google Ads 
Google Ads is a very effective way to communicate with your target audience as it lets you tap into the large number of users who are looking at (and for) information, services and products online.
For example, Search advertising is an effective way to communicate with your potential audience as it allows you to target keywords your potential customers are searching for. Search advertising places online ads on the search engine results page, taking into account demographics and intent combined with advanced bidding techniques. This includes Text Ads as well as Shopping Ads. Paid Search ads can be an effective way to generate traffic as 75% of people do not go past the first page in Google Search results!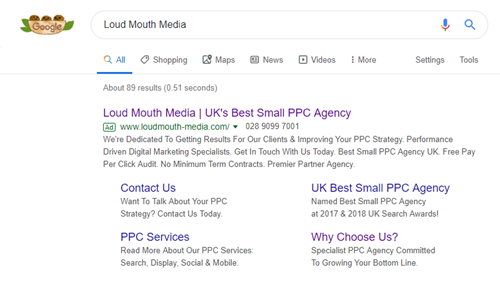 Examples of Search Advertising
Display advertising can also assist in effective communication by helping raise brand awareness as Google's Display Network can reach over 2 million websites. Display advertising enables you to effectively communicate with your target audience as it serves your ads to those who have previously interacted with your business and also to consumers who have an interest in similar products or services that your business offers. This is assisted with Google's pre-defined audiences.
Video advertising is also an effective platform to communicate with your audience as 45% of people watch more than an hour of Facebook or YouTube videos a week. Video advertising can reach a hyper-relevant, defined audience – resulting in maximum reach and minimal budget wastage. When you advertise on YouTube, you only ever pay when someone chooses to watch your ad (at least 30 seconds) so ad spend is never wasted on users who aren't interested in your video!
Overall, Google Ads allow you to track and measure results easily, allowing you to analyse what is working for you and what is not so you can optimise as needed to communicate effectively to your audience. When done right, Google Ads is a highly effective way to communicate, bring in new business and drive conversions.
Search Engine Optimisation 
Search Engine Optimisation (SEO) ensures your website is correctly configured in order to rank highly for the keywords that align with your business objectives. Google and other search engines rank web pages based on a wide variety of factors in organic results that cannot be paid for.
If you want to communicate effectively with your audience online it is essential to have an SEO friendly website. Business' first point of contact with potential customers is usually their website, therefore the first impression must be a good one. It is important that your website effectively communicates your message, is understandable to both users and Google, is current and has a call to action that can ultimately lead to conversions.
Finally, content is king when it comes to a successful SEO strategy. To communicate effectively with your audience, ensure your website has useful, high quality content and loads fast to drive more traffic which may eventually lead to conversions. An in-depth SEO audit will identify areas where your organic search presence can be improved and provide actionable recommendations on how to manage it.
Do you need to improve your digital communication with your audience? Get in touch to find out how we can help!