If you didn't manage to catch any of the F8 talks, here are 5 of the top announcements that Facebook made over the duration of the conference.
If you haven't heard of it before, F8 is Facebook's annual developer conference, which is a multi-day event in which the social network usually announces plans for its business as well as updates to its products. During a series of keynotes at the conference, Facebook announced massive updates to Instagram and Facebook and, following a year of controversy surrounding intense security and user privacy concerns, the overriding theme was 'the future is private'.
If you didn't manage to catch any of the talks, here are 5 of the top announcements that Facebook made over the duration of the conference.
1. Privacy
It's hardly a surprise that privacy was the main focus for Facebook F8 this year. The social network hasn't exactly had a good year in respect to its users' data, and evidently, regaining that lost trust is a big priority for the social media giant. 
As a result, Facebook revealed that we're going to see them amplify their efforts to align themselves with privacy, both in terms of user experience and behind the scenes. They intend to achieve this with safety measures such as private interactions, encryption, interoperability, and secure data storage.
2. Facebooks Redesign
In possibly the biggest announcement at the F8 keynote, Zuckerberg said that Facebook is getting a massive redesign, referring to it as "the biggest change to the app and website in the last five years." He said that both the desktop website and the mobile app will soon receive a facelift that is designed to make it easier to find and connect with relevant Facebook Groups and Events, with improved suggestions, browsing, and discovery tools, rather than having a generalised update feed from your friends. Group interaction options will also show up when you're browsing other parts of Facebook, too. Facebook said the mobile redesign should begin rolling out immediately, while the desktop version should come out in the next few months.
So how does this affect us as advertisers? We believe that this is another step where Facebook is following the LinkedIn format, since Groups are a big player in audience targeting on the LinkedIn platform. The natural progression of this should be that, in time, Facebook will potentially launch a Group targeting metric (however, this has not yet been confirmed!).
The focus on events also provides more opportunities for advertisers as this will benefit organic posting which, in turn, will help paid advertising due to higher post engagement. This will therefore provide more scope for future Custom Audiences.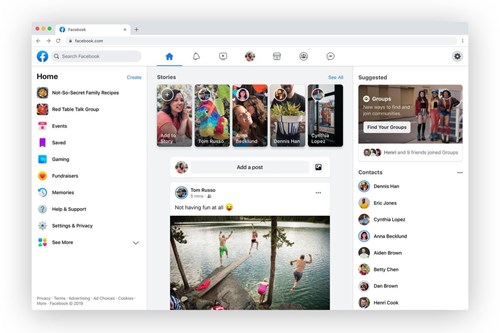 Image: Facebook
3. Instagram Shopping
Earlier this year, Facebook released Checkout, letting businesses sell goods directly to users (US only) via a check out system. At this point, Instagram had said it only allowed companies to take advantage of shopping tags to sell products using the platform's in-app checkout process, which is currently still in beta. Now, Instagram has announced that it is more broadly rolling out new tags that will allow "public figures, creators, athletes, publishers, and artists" to gain access to the feature, which will let them tag articles of clothing and let followers buy those items immediately within the app. Instagram shopping therefore benefits ecommerce brands by introducing a more streamline version for users to shop products they like when scrolling through Instagram, and even via their favourite influencers.
Previously, Instagram would re-direct to the desired landing page linked to the ad but, by allowing users to shop on the app itself, the process is more streamlined, faster and more efficient for the user. In terms of advertising, we feel that this could result in Instagram overtaking Facebook in terms of conversions! Since Instagram is starting to close the gap on Facebook in terms of usage, it will be interesting to see the impact the introduction of Instagram Shopping will have on overall platform performance.
4. Facebook Messenger
The F8 conference also revealed a reshaping of Facebook Messenger as a way for users to keep up with friends. You can set status messages or share photos with people you like and trust, potentially making it easier to arrange offline hangout sessions.
Facebook Messenger is getting a dedicated desktop app for both Windows and MacOS. This should make one of the leading messenger apps much more accessible on a desktop. To be clear, this will be different from the standalone Facebook Messenger web app that already exists.
5. Facebook Dating's 'Secret Crush'
In what seems like quite a strange move and in an attempt to steal some market share from Tinder, Facebook expanded into the dating business last year with 'Facebook Dating'. At the moment this feature is limited to just Asia and Latin America, but F8 2019 revealed that this will be arriving into 14 countries. Those who have access to the dating feature are able to use a 'secret crush' feature that connects them with people via mutual lust for each other.
2019 marks Facebook's 10th F8 and with the introduction of new features and updates to Facebook's family of apps, Facebook has helped build the community and bring the world closer together. The F8 Hackathon hosts global developers who shape the latest technology and unlock the platform's potential. Overall, five of the top announcements made over the duration of the conference allow us an insight into what has been going on but also, what is yet to come. Speaking of future growth opportunities, keep an eye out for more blogs on how these changes and new features are impacting users on a global scale.